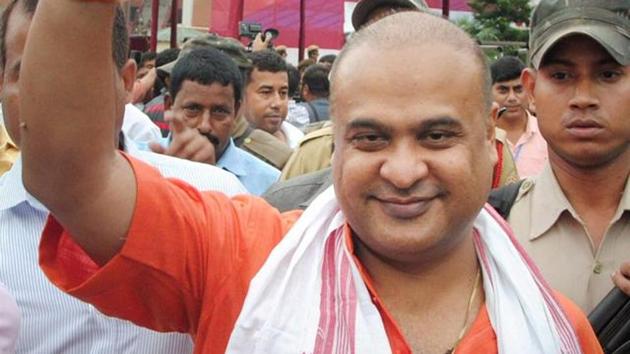 Under fire for cancer remark, BJP's Himanta Sarma drags Pidi into Twitter fight
BJP's Himanta Biswa Sarma hits out at journalists and political rivals for mocking his comments, calling it offensive to Hindu sensibilities
UPDATED ON NOV 23, 2017 02:44 PM IST
Assam health minister Himanta Biswa Sarma posted a series of tweets on Thursday defending his position on karma as a possible reason behind cancer, a day after he was widely panned by journalists and political rivals who called his views unscientific.
"You have to realise difference between sin and karma. Politics can come and go. But what is written on Bhagavadgita, is for me the final truth (sic)," Sarma said, responding to journalist Pallavi Ghosh who asked him to apologise to people who suffered from cancer, including both their fathers.
On Tuesday, Sarma told a group of newly appointed schoolteachers Sarma that "it is a sin to shirk responsibilities. No one can go unpunished in God's court if a member of his or her family does some injustice. Some people suffer from cancer, some die in accidents. This is all because of sins."
The excerpt was reported on Wednesday, and among its most prominent critics was Congress leader P Chidambaram. "'Cancer is divine justice for sins' says Assam Minister Sharma (sic). That is what switching parties does to a person," the Congress leader tweeted, referring to Sarma's switch to the Bharatiya Janata Party from the Congress before the last state elections.
In response, Sarma tweeted:
He also took a new dig at Chidambaram, writing: "By the way sir when did you rejoin @INCIndia ? As per as I know you were in Tamil Maanila Congress. Privileged people can indulged in any activity right from Chit Fund to Inxmedia, can switch party. After all #Pidi likes privileged people (sic)".
Pidi is the name of Rahul Gandhi's dog, and the Congress vice president posted a picture of the pet in a tweet last month poking fun at his rivals. At the time, Sarma responded to Gandhi, writing: "Sir @OfficeOfRG, who knows him better than me. Still remember you busy feeding biscuits 2 him while We wanted to discuss urgent Assam's issues." This then prompted Gandhi to return the slight with a remark about loyalty.
The subtext of the exchange was Sarma's switch to the Congress.
Sarma also hit out at journalist Rajdeep Sardesai, who also tweeted a link to Sarma's comments on Wednesday.
In other tweets on Thursday, Sarma said his speech was not about cancer. "I simply asked a new batch of teachers to work sincerely & work for poor. In that context I argue that if we do not work sincerely in next life we might face karmic deficiency & that may lead to sufferings. What is insensitive about this?"
Close