Assam urges its residents to avoid travel to Mizoram
Updated on Jul 30, 2021 04:54 AM IST
The unprecedented advisory came on a day a state minister upped the pitch against Mizoram, which alleged that the larger state had imposed an informal economic blockade by refusing to let goods pass through.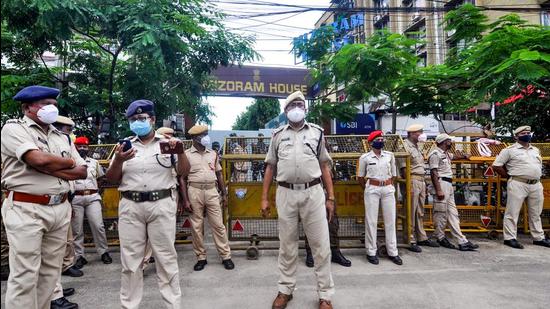 Assam issued an advisory on travelling to Mizoram on Thursday as tensions between the northeastern neighbours continued to simmer three days after a fierce gunbattle at a disputed border killed seven people and injured 41 others.
Assam asked its residents not to travel to Mizoram due to safety concerns and asked those already in the state to exercise caution. The unprecedented advisory came on a day a state minister upped the pitch against Mizoram, which alleged that the larger state had imposed an informal economic blockade by refusing to let goods pass through.
"Given the critical prevailing situation, the people of Assam are advised not to travel to Mizoram as any threat to personal safety of people of Assam cannot be accepted," said the advisory issued by MS Manivannan, commissioner and secretary in the home and political department.
The advisory, which was brought into force with immediate effect, urged the people of Assam staying in Mizoram "due to work-related compulsion" to exercise "utmost caution".
"Certain Mizo civil society, students and youth organizations are constantly issuing provocative statements against the state of Assam and its people," the advisory read. "In view of the above and with the purpose of ensuring safety and security, a travel advisory is hereby issued to all people of Assam," it added.
The police forces of the two states fought a pitched gun battle at a disputed border in southern Assam on July 26, in which six Assam policemen died. Assam claimed Mizoram police opened fire on its forces who objected to a road being constructed by Mizoram on a patch of forested land it claims. Mizoram claimed the land belongs to it.
The clashes led some residents on the Assam side to block some sections of National Highway 306, disrupting transportation to the neighbouring state.
On Wednesday at a meeting called by Union home secretary Ajay Kumar Bhalla, the two sides agreed to withdraw their police forces in the four-km disputed stretch which runs between Vairengte in Mizoram and Lailapur in Assam along NH-306. They also agreed to the deployment of central paramilitary troops in the area till a permanent solution is found.
But tensions refused to die down.
Assam urban development minister Ashok Singhal, forest minister Parimal Suklabaidya, Silchar MP Rajdeep Roy and local MLA Kaushik Rai visited the Lailapur border area on Thursday afternoon.
"We have always supported the peace and wanted to solve the matter by dialogues. But at this moment peaceful discussion is not possible. We cannot talk about peace over six dead bodies of our police officials," said Singhal.
Rai raised the pitch even further.
"Mizoram has forgotten that their lifeline moves through Assam's land. If we block the supply of their essential commodities, they will starve to death...It is time for us to take revenge against them. We are supporting a complete economic blockade at all the roads connecting Mizoram with Assam," he said.
In another order, Assam said all vehicles coming to the state from Mizoram will be thoroughly checked for drugs. A separate circular asked deputy commissioners and police chiefs in Kamrup (Metropolitan) and Cachar districts to ensure the safety of persons from Mizoram staying in Mizoram House in Guwahati and Silchar.
In Mizoram, too, anger mounted.
Talking to a Hindi news channel on Wednesday, Rajya Sabha MP K Vanlalvena said, "Next time Assam Police tries to enter our territory, we will kill them all."
Mizoram's home secretary Lalbiaksangi also wrote to the Centre complaining about the economic blockade.
"Assam has blocked National Highway-306 since July 26 which has persisted till date. NH-306 is the main highway for the flow of essential commodities and supplies into Mizoram. The blockade is affecting the livelihood of the people of Mizoram adversely," wrote Lalbiaksangi on Wednesday. He appealed to the central government to intervene.
Drivers of several Mizoram-bound trucks said they were stuck near Lailapur. Ram Pravesh, a 35-year-old driver was carrying material for an oxygen generation plant at Aizawl Civil Hospital. He said, "When I started from Delhi, I didn't know that is happening here. For almost three days, I am stuck here and I cannot go back also. I am not the only one here; we have so many people like me spending nights in fear."
In an open letter to Assam chief minister Himanta Biswa Sarma on Wednesday, J Lalmuanzuala, president of Mizo Students Union, had suggested that Mizos would not shy away from resorting to arms if they are "taken for granted".
Assam Police have registered a case of murder against unknown persons and is probing the role of Mizoram MP K Vanlalvena in the clashes.
(With inputs from Biswa Kalyan Purkayastha)