Encephalitis deaths in Bihar rise
Hindustan Times, Muzaffarpur |
HT Correspondents
Jun 14, 2019 10:38 PM IST
Encephalitis is a viral infection which causes mild flu-like symptoms such as high fever, convulsions, and headaches.
Five more children died of the suspected encephalitis here on Friday as per the superintendent of Sri Krishna Medical College and Hospital (SKMCH), taking the death toll in the state to 57.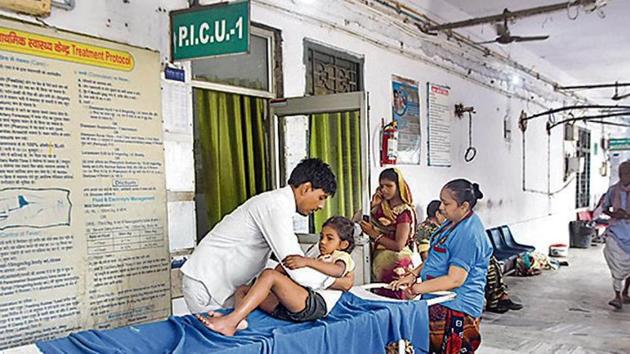 On Friday, a seven-member team from the Centre examined patients at the SKMCH and prepared a report on the hospital's management of the disease. As per the state health minister, 47 children have died at the SMKCH, and 10 in Kejriwal Maternity Clinic (KMC).
The team led by Dr Arun Kumar Singh, national advisor of Rashtriya Bal Swasthya Karyakram, which submitted its report to the director general, health services, on Friday, said resources were not being optimally utilised at the hospital, a state health official privy to the report said. A copy of the report was also handed over to Bihar's principal secretary, health, Sanjay Kumar.
Singh declined to comment.
The report also mentioned that doctors were not performing CT (computed tomography) scans as they were not familiar with diagnosis and management protocol for AES, said the official. CT scan is available at the hospital on public-private partnership basis.
"Though ventilators — at least six of them — were available in paediatric intensive care units, they were not being put to use as the doctors were not trained. No trained intensivist was available at the hospital to run the ventilator. Even arterial blood gas (ABG) analysers were not being put to use as doctors did not know precisely when to use them in such cases," the report said.
Besides, it pointed to lack of "triaging" (prioritising) of patients at the SKMCH.
"We are open to supporting and developing capacity of state health personnel. We are even willing to share our functional model of ICU and send our team of experts and paramedics to SKMCH for firefighting and hands-on training of their personnel," said AIIMS-Patna director Dr Prabhat Kumar Singh. Dr Lokesh Tiwari, associate professor of AIIMS-Patna, is one of the members of the central team.
Bihar health minister Mangal Pandey inspected SKMCH on Friday morning and reviewed the treatment facilities and preparedness at the hospital. "The situation has worsened after June 2, following high temperature and excessive humidity, resulting in admissions of encephalitis-afflicted children in bulk, and leading to [more] deaths," said the minister.
The minister, who was accompanied by additional joint secretary (health) Kaushal Kishore and director-in-chief (health) RD Ranjan, held a detailed discussion with the doctors in view of the surge in encephalitis cases.
Seeking central intervention, the state health minister said that he spoke to union health minister Harsh Vardhan on Thursday and apprised him of the situation.
Stressing on the need for launching awareness, Pandey said that the health department had alerted 12 districts and issued advisory to the district magistrates.