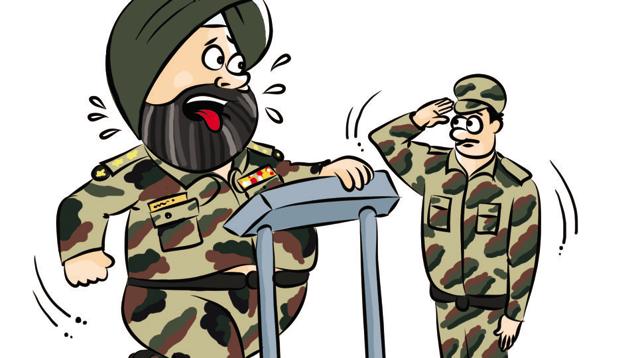 Battle against bulge: Indian Army says overweight soldiers will not be promoted unless they shape up
The army has adopted a zero-tolerance policy towards obesity in its rank and file, after a sample survey of 767 soldiers last year found a third of them overweight.
By Manraj Grewal Sharma
, Chandigarh
UPDATED ON APR 21, 2017 08:08 AM IST
Attention, overweight army officers and soldiers. Unfit military men can't stand at ease until they slim down, or else they lose their eligibility for promotions and transfers, the right to attend ceremonial functions and much more.
The army has adopted a zero-tolerance policy towards obesity in its rank and file, after a sample survey of 767 soldiers last year found a third of them overweight.
The findings put a question mark on the combat-readiness of the world's third largest army with 1.3 million personnel, saddled with aggressive neighbours.
A fight against flab has started in the army as a special order, effective from this May, says all personnel must undergo an annual "obesity evaluation examination".
The annual confidential reports (ACRs) of officers will henceforth carry a full-size picture, instead of the previous norm of a passport-size photo, so that any bulge around the waist is visible.
Waist size will determine promotions. A certificate from the officer, who writes the ACR of the personnel to be promoted, will be sent to departments concerned.
Promotion will be held back for anybody 10% above the "ideal body weight", until he shaped up. If the promotion order comes before the certificate is issued, he will not be allowed to wear the next rank till the commanding officer certifies that he has reached the ideal weight.
Officers downgraded for their waistlines will not be allowed to attend career advancing courses such as the one offered at Defence Services Staff College, even if they clear the entrance exams.
Army spokesperson Colonel Aman Anand said instructions for "enforcement measures to help check the menace of obesity" were sent for comments to all military commands last August.
The idea came from then army chief General Dalbir Singh Suhag, a fitness enthusiast who ran 10km each day, and was appalled at the increasing girth of the men under his command.
According to army officers instructions to stay fit were often issued, but seldom followed diligently and never attracted harsh punishments. The survey conducted by the defence ministry and the Indian Council of Medical Research prompted the bosses to crack the whip.
"Soldiers in forward areas tend to put on weight as the fitness regime is not followed. The fresh instructions will make people sharpen their focus to stay in top physical shape," an officer said.
No overweight personnel can go abroad on assignments unless he is specially exempted or is a war wounded.
Besides, plump officers will not be granted reemployment either. Applications will have to be accompanied by a fitness certificate, mentioning the ideal body weight.
"These things were ignored if an officer was performing well and didn't look fat. The army has decided to take the problem head-on as it reflects on the image of the force," said a senior officer in the military headquarters.
Obesity is a worldwide epidemic, afflicting the armies of the US, Germany and Pakistan as well. The Indian Army is no exception, but it is striving to have a fit force with its battle against the bulge.
With inputs from Rahul Singh in New Delhi
Close