Bengal Ram Navami violence: Babul Supriyo prevented from entering Asansol, FIR filed
Hindustan Times, Kolkata/Midnapore |
HT Correspondents
Mar 30, 2018 08:25 AM IST
The Mamata Bannerjee government kicked in several measures to contain violence in the Asansol Raniganj area, including rushing 3 IPS officers, cutting off internet and patrolling by RAF and police.
An FIR was registered against Union minister of state Babul Supriyo for 'violating' prohibitory orders and allegedly manhandling policemen after he was prevented from entering Asansol, his constituency, where tensions remained high in the wake of clashes that broke out earlier this week.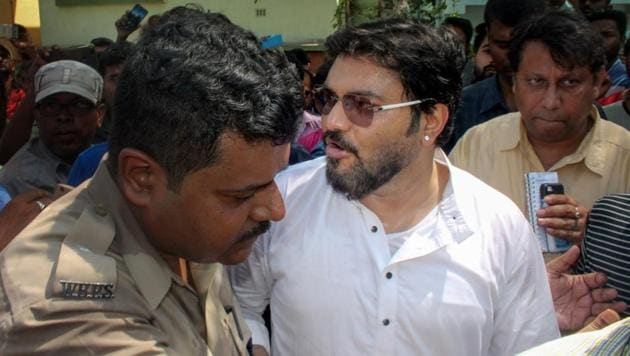 Supriyo was trying to enter Railpar in Paschim Bardhaman district when a group of people began demanding that he leave the area immediately, according to those familiar with the incident. Police stopped his advance, citing security concerns.
The Union minister was indignant. "As a public representative, I have every right to visit my constituency – especially when people are in trouble. It is my duty. But the police say that I can't be allowed to enter as Section 144 of the CrPC is imposed in the area, and – being a minister – I should not violate rules," he said. Section 144 of the CrPC, or Criminal Procedure Code, bars the assembly of five or more people in an area where it has been imposed
A man was killed and several injured after a Vishwa Hindu Parishad (VHP)-backed Ram Navami procession allegedly tried to enter a Muslim-dominated locality in Raniganj on March 26. Two others also lost their lives in related incidents across North 24 Parganas and Purulia districts around that time. While chief minister Mamata Banerjee maintains that saffron activists triggered violence in the state, BJP leaders have accused the police of allowing people from the minority community to attack them.
Supriyo alleged that police were nowhere to be seen while houses were being set afire in the Raniganj area. "And yet, they came and blocked my way while I was going there," he said.
News channels showed the minister arguing with policemen who waylaid his vehicle. "Shut up. Don't you dare touch me," he was heard yelling at them.
Later, Supriyo took to Twitter to lash out at the state government. "People of #Ranigunj are attacked, police force is outnumbered . And Mamata Government could only cut off internet connectivity for 2 days?" he tweeted.
No violence was reported on Thursday, with the state government ensuring heavy police presence in the affected areas. Internet services were also suspended.
Locket Chatterjee, president of West Bengal's BJP Mahila Morcha, the party's women's wing, was also stopped by police en route to Raniganj. She staged a sit-in protest. "The law-and-order situation has deteriorated. Police did not allow me to proceed even after I told them that I will not go there. They told me to speak to the district magistrate, who kept me waiting for more than half an hour," she said.
West Bengal parliamentary affairs minister Partha Chatterjee dismissed the allegations levelled by both Supriyo and Chatterjee, stating that the BJP was trying its best to rekindle communal tensions at a time when the region is returning to normal. "Why do they want to visit Raniganj when police are patrolling the area? Are they not satisfied with the violence they unleashed over the last two days?" he asked.
Jitendra Tiwari, mayor of the Asansol Municipal Corporation, said "When Raniganj was burning, Supriyo was nowhere to be seen. He now wants to visit the place to provoke the people again," he said.
A senior district police officer said the affected areas were being patrolled by large contingents of police and Rapid Action Force (RAF) personnel.
"Although there have been no fresh incidents of violence, the area continues to be under Section 144," he said.
Commercial establishments across Asansol and Raniganj partially opened for business, but fewer vehicles plied on the streets.