West Bengal violence over FB post: BJP's Roopa Ganguly arrested, Basirhat calm
Basirhat town in the state of Bengal hit by communal violence was peaceful on Friday. Some shops opened in areas such as Maitra Bagan, Harishpur, Raghunathpur, Tyantra, and Bhyabla.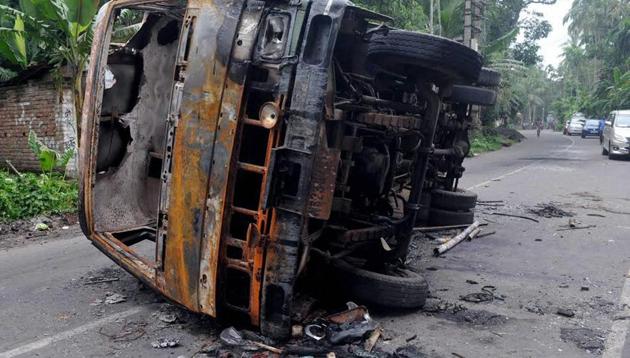 Updated on Jul 16, 2017 07:10 AM IST
West Bengal Police arrested a clutch of prominent politicians on Friday morning to prevent them from visiting violence-hit Basirhat that has been rocked by communal violence over a controversial Facebook post.
Police arrested BJP leaders Roopa Ganguly and Locket Chatterjee near the Kolkata airport when they insisted on proceeding to Basirhat, around 12 kilometres from the Bangladesh border that has seen violence by Muslim mobs and retaliatory attacks over four days.
Earlier, police also prevented a team of Left leaders led by Lok Sabha MP Md Salim and a Congress team from reaching the troubled spot. The Left team was obstructed at Ashoknagar, about 40 kms from Basirhat, and the BJP team was intercepted at Michaelnagar, about 50 km away.
But the situation in Basirhat was peaceful on Friday morning after meetings between the locals and police officers on Thursday night.
Some shops opened in areas such as Maitra Bagan, Harishpur, Raghunathpur, Tyantra, and Bhyabla in Basirhat on Friday morning. Some vehicles were also plying on the roads. There were no reports of any violence from areas such as Swarupnagar and Baduria, where the trouble began.
The area continues to be under prohibitory orders and internet services remained suspended for the third day in a row.
Read more | Bengal violence over FB post: Man dies of stab wounds, clashes erupt in Basirhat
On Thursday afternoon, Basirhat virtually turned into a war zone as Hindu mobs clashed with the police and vandalised homes and shops belonging to the minorities. The violence ebbed only after Thursday evening.
"After 8pm on Thursday police officers held extensive meetings with the people in the Hindu-dominated localities of Basirhat town, and following assurances by the officers that the areas will not come under attack from Muslim mobs, road blockades were lifted," Pintu Hati, a resident of Harishpur, said.
"All we wanted from the police was assurance that our homes, shops, and properties won't be targeted by anybody. We have no intention of attacking anyone. We have lived peacefully for decades in this area, and that harmony has to be restored," Ganesh Mondal, a resident of Mailakhola which is a part of Basirhat town, said on Friday morning.
Locals claimed police have arrested more than 30 people, most of them Muslims. However, police officers remained tightlipped. They said they have only arrested the Class 11 student, whose Facebook post triggered the violence, on Sunday night.
Read more | The governor humiliated me, he spoke like a BJP block president: Mamata Banerjee
Since Sunday evening, Muslim mobs have set shops and buildings on fire and clashed with police, angered by the Facebook post, in areas such as Bashirhat, Baduria, Swarupnagar in North 24 Parganas district that border Bangladesh.
On Thursday, a 65-year-old man died of stab wounds in Kolkata. Kartik Ghosh was attacked by mobs with sharp objects when he was returning home on a motorcycle on Wednesday afternoon. This was the first death in violence that has swept the Basirhat region, barely 12 kilometres from the Bangladesh border.
As tensions rose in the area on Thursday, mobs attacked a dargah and vandalised shops and houses belonging to Muslims in what locals described as retaliatory attacks. A large team of policemen struggled for hours to disperse the crowd by caning and firing tear gas shells, but without much success. Angry mobs set tyres on fire and sounds of local-made bombs exploding could also be heard.
The house of a local Trinamool Congress politician and a party office also came under attack from a Hindu mob the same evening. "I was at the Basirhat police station when a group of anti-social elements descended on my house around 5.30pm," Basirhat (south) MLA Dipendu Biswas told HT.
Reports emerged that Trinamool leaders were unhappy with Biswas' activities in the area, and have summoned him to the party office in Kolkata on Friday. Residents of Harishpur and Mailakhola villages also alleged that the MLA accompanied the police when they went to Hindu-dominated areas in search of weapons.
Chief minister Mamata Banerjee has asked all political parties to refrain from visiting the riot-affected zone until peace is restored. "Please cooperate with the government," she said on Thursday evening.
The violence has taken a political colour with the opposition Bharatiya Janata Party accusing the chief minister of appeasing Muslims and the ruling Trinamool Congress alleging the saffron party was inciting communal passions for electoral benefit.
A team of three BJP MPs – Meenakshi Lekhi, Satyapal Singh and Om Prakash Mathur – are scheduled to visit Basirhat on Friday, and submit a report to party president Amit Shah. But state government sources told HT that the local administration was likely to block their entry, setting the stage for fresh confrontation.
Close Story