Bihar's sand mafia attacks police party in Vaishali, 3 cops injured
Hindustan Times, Hajipur |
Rajesh Kumar Thakur
Sep 15, 2017 02:45 PM IST
The sand mafia attacked the six-member police team with lathis (sticks) as soon as it reached the Chandralay village in Vaishali at around 10.30pm on Thursday.
Thumbing its nose at the police, sand mafia in Bihar attacked a police team, injuring at least three cops at a remote village in Bihar's Vaishali district, 20 km north of Patna, late Thursday evening.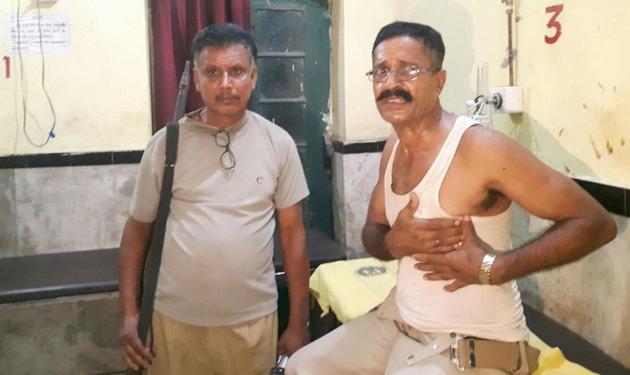 Police inspector and station house officer of the Sadar police station, Chitranjan Thakur, was admitted to a private nursing home in Patna in a serious condition. The other injured cops, assistant sub-inspector Yugal Kishore Singh and constable Lal Babu Prasad, were undergoing treatment at the sadar hospital in Hajipur. They were reported to be out of danger.
Around 30 members of the sand mafia attacked the six-member police team with lathis (sticks) as soon as it reached the Chandralay village at around 10.30pm on Thursday. Illegal trade of sand takes place under the cover of darkness, which is when trucks and tractors are loaded with building construction material.
The police had gone to check, after it reportedly got a tip-off about illegal sand trade on the 25-km long Hajipur-Lalganj stretch. The site where the police team was attacked is full of banana grove and is 35 km (approx.) from Patna and barely 3 km from the district police headquarters in Vaishali.
Around 2 km from the Chandralay village, it was on this stretch in 2006 when crude bombs were hurled at the car of the then Vaishali district magistrate Sanjiv Kumar Hans while he was returning from the Vaishali mahotsav. Hans, who had launched a spirited campaign against the liquor mafia in the area, escaped the murderous attack.
Vaishali superintendent of police Rakesh Kumar said, "We are trying to identify the culprits and will take strong action against them."
Sand mining is a high-stakes business, and the estimated trade ranges between Rs 7000 and Rs 8000 crore annually, though the Bihar government earns revenue of nearly Rs 500 crore out of it.
The government crackdown on illegal mining has hit sand supply for construction work in Patna and neighbouring districts of Bihar. Many builders have been forced to halt work due to a shortage in supply or higher costs, affecting their business.
Police are cracking the whip on illegal sand mafia through raids in Patna, Maner, Ara and at other places in the state and have seized huge stocks of sand. The law prohibits mining on the riverbed during monsoon (July 1 to September 30), but the sand mafia continues to do it in brazen defiance.
In Bihar, mining lease has been settled in favour of 25 companies, allegedly owned by powerful people. Bihar's unprecedented floods this year (August 12-22), which affected 1.71 crore people in 19 of the 38 districts and claimed 514 lives, have been blamed on indiscriminate sand mining as one of the reasons. The weakening of embankments due to unplanned mining activities was cited as one of the key reasons behind Gandak breaches.