'Kissing contest' kicks up storm, Jharkhand govt orders probe
Two-member probe team visits Dumaria village to examine authenticity of the contest. Team members say prima facie it seems an organised case of 'indecent' behaviour in public place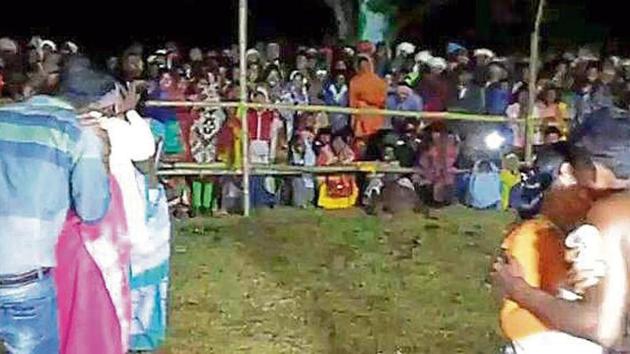 Updated on Dec 12, 2017 08:45 PM IST
The Jharkhand government said on Tuesday it has initiated a probe into the 'kissing contest' that has now become a political issue in the state, with the ruling Jharkhand Mukti Morcha (JMM) for "conspiring to malign the tribal culture and custom".
A two-member probe team comprising Pakur sub-divisional magistrate (SDM) Jitendra Kumar Deo and deputy superintendent of police (DSP) Navnit Hembrom visited Dumarai village and inquired from villagers about the event.
"We have begun a probe into the controversy surrounding the kissing contest on the directive from the district administration. To examine the authenticity of the contest, we visited Dumaria village on Monday," Deo told Hindustan Times.
JMM's Littipara legislator Simon Marandi had organised a kissing contest at Dumaria, his native village, on Saturday evening. The contest was part of various other events during the two-day fair, Dumaria Mela, which he has been organising for the last 37 years.
At least 18 couples locked lips in the presence of hundreds of people of Pahariya community, a particularly vulnerable tribal group (PVTG) of Santhal Pargana. Marandi had said it was an initiative to check growing cases of divorces and differences between couples in the tribal community in the region.
Deo said they were identifying organisers and couples who participated in the event for interrogation. The magistrates deputed at the fair will also be interrogated, he added.
"Prima facie it seems a case of indecent behaviour in public place, which is a violation of sections 292, 293 and 294 of Indian Penal Code. If it is established, the offenders would be prosecuted accordingly," he said, adding, the probe is on and findings of it will soon be submitted to the administration.
Activists of BJP farmers' wing and All Adivasi Youth and Students Union (AAYSU) on Tuesday staged demonstrations and burnt effigies of Marandi and Maheshpur JMM legislator Stephen Marandi at Pakur's Gandhi Chowk and Sidhu-Kanhu Park, respectively.
BJP leader and Pakur zila parishad chairperson Babudhan Murmu said the JMM legislators should apologise for the incident. "It was a well-hatched conspiracy of JMM leaders to malign the tribal culture and custom by introducing western concepts," Murmu said.
AAYSU members said the JMM legislators were promoting vulgarism in tribal society by organising such an event.
"The event earned bad name to tribal society. The organisers should apologise and promise that the mistake will not be repeated in future," AAYSU president Mark Baski said.
PROTEST Activists of BJP farmers' wing and All Adivasi Youth and Students Union stage demonstrations and burn effigies of JMM legislator Simon Marandi
Close Story