BJP waived off Maharashtra, UP farmer loans under pressure from Congress: Rahul Gandhi
The pressure built by the Congress forced the BJP government to grant loan waiver to farmers in Maharashtra and UP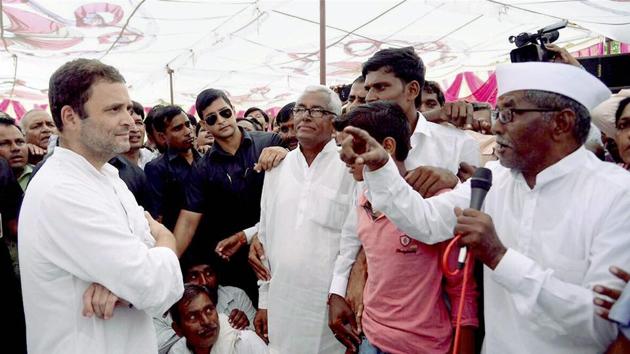 Updated on Sep 08, 2017 10:33 PM IST
The pressure built by the Congress forced the BJP government to grant loan waiver to farmers in Maharashtra and UP, party vice-president Rahul Gandhi said in Nanded in Maharashtra's Marathwada on Friday.
Gandhi said Maharashtra farmers may get only Rs 5,000 crore of the Rs 34,000-crore loan waiver announced by the government two months ago.
"The Congress' rallies for loan waiver forced the Maharashtra government to write off the loan. We held rallies in UP, met lakhs of farmers and filled up two crore forms demanding waiver. This put tremendous pressure on the UP and Central government," he said.
Gandhi said while Ratan Tata was easily given land worth Rs 65,000 crore for his Nano plant in Gujarat during PM Modi's tenure as CM, farmers were being made to fill forms with their caste and other details for loan waiver.
Key Congress leaders from the state, including state chief Ashok Chavan, former chief minister Prithviraj Chavan and leader of opposition in the assembly Radhakrishna Vikhe-Patil were present at the rally held ahead of elections in Nanded next month.
"The Narendra Modi-led government has destroyed farmers, farm labourers and small traders with his policies. Demonetisation hit farmers, women and poor citizens the most.
The PM's first said it will help unearth black money and curb terrorism. The recent count of the old currency has exposed his false claims. Modiji has failed to keep his promise of two crore jobs a year as his government could generate only one lakh jobs in three years. His government has failed to address the problem of unemployment, " he said. Gandhi said the government was not bothered about the country and its unity, but only interested in widening base of BJP and RSS.
Close Story