BrahMos test-fired from Sukhoi fighter jet for first time
Nov 23, 2017 07:20 AM IST
The missile hit a sea-based target in the Bay of Bengal from the combat jet
India successfully launched the world's fastest supersonic cruise missile from a Sukhoi-30 warplane for the first time against a target in the Bay of Bengal, the defence ministry said on Wednesday.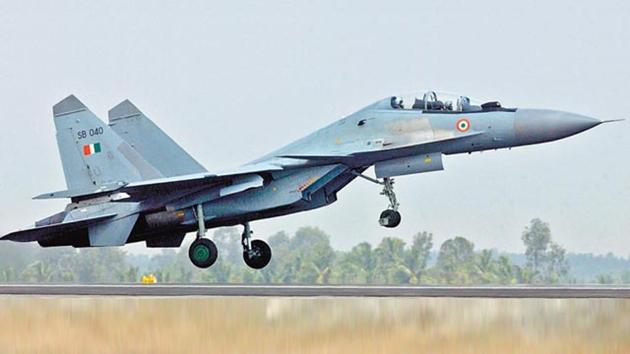 The 290km-range BrahMos missile, an Indo-Russian joint venture, is now ready for induction into the Indian Air Force, a top government official said. The specially modified Su-30 fighter took off from the Kalaikunda air base in West Bengal to launch the weapon against a decommissioned boat.
"The successful maiden test firing of BrahMos air launched cruise missile (ALCM) from Su-30MKI will significantly bolster the IAF's air combat operations capability from stand-off ranges," a statement by the defence ministry said.
At least two Su-30 squadrons consisting of 18 planes each are likely to be equipped with the 2.5-tonne missile that flies at nearly three times the speed of sound. The BrahMos missile is the heaviest weapon to be deployed on the Su-30.
The missile's land and naval variants– 500kg heavier than the air launched version– are already in service. BrahMos is now capable of being launched from land, sea and air, completing the tactical cruise missile triad for India, the ministry's statement said.
"Such a capability can be a game changer for any air force in the world," BrahMos Aerospace CEO Sudhir Mishra told Hindustan Times, shortly after the launch was declared successful. Air-launched missile tests are fraught with risks and dozens of fighters have been lost globally during similar trials.
Summing up the significance of the test, the defence ministry said the missile had "created history." Defence minister Nirmala Sitharaman congratulated India's military scientists and BrahMos Aerospace for the "outstanding accomplishment."
The newly developed capability has the potential to shift military equilibrium in the region in India's favour, Mishra told HT in an interview in August 2016. Two Su-30 jets were modified by the Nasik division of the Hindustan Aeronautics Limited to test the air-launched missile.
India will soon be deploying an extended range BrahMos missile whose reach has been increased from 290 km to 450 km by tweaking the configuration of the existing weapon. Increasing the missile's range became possible after India's induction into the Missile Technology Control Regime (MTCR) in June 2016.
A Su-30 flew with an integrated BrahMos missile for the first time in June 2016 and a series of rigorous tests followed to check the weapon's behaviour during complex supersonic manoeuvres before Wednesday's maiden launch.
Sources said the integration of a missile on the Su-30 fighter had given birth to a formidable strike system with pin-point accuracy and unmatched flexibility by way of long-range and lightening speed.