Breathing uneasy: Delhi to Surat, air is toxic in many Indian cities
Nov 07, 2017 05:50 PM IST
While a toxic blanket of smog routinely covers Delhi-NCR as winter approaches, government data and independent studies show people in other cities in the country are breathing air just as bad.
Delhi is taking emergency measures to control the impact of "severe" air pollution on Tuesday, but people in India's major cities are not breathing easy either.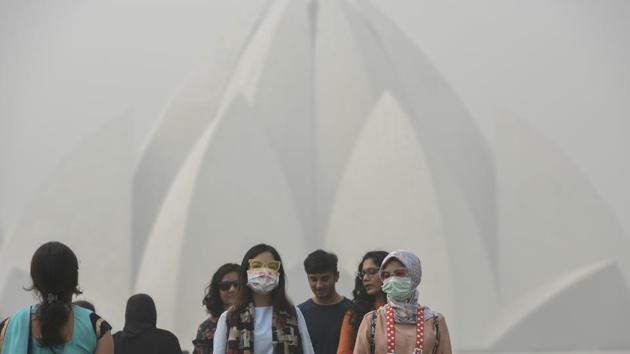 Half of the world's 20 most polluted cities were in India, said the World Health Organization in a 2016 report. Indian government data and independent studies, too, say Indian cities are breathing bad air.
A Greenpeace India report released in January this year said data from state pollution control boards showed "there are virtually no places in India complying with WHO and National Ambient Air Quality (NAAQ standards, and most cities are critically polluted."
"Except for a few places in southern India which complied with NAAQ standards, the entire country is experiencing a public health crisis due to high air pollution levels," it said.
Pollution is routinely measured on the basis of particulate matter (PM), which is the sum of all solid and liquid particles suspended in air many of which are hazardous. Two particle sizes are widely monitored: PM10 and PM2.5.
Delhi topped the list of PM 10 level and it was followed closely by Ghaziabad, Allahabad, and Kanpur in Uttar Pradesh; Faridabad in Haryana; Jharia in Jharkhand, Alwar in Rajasthan; Ranchi, Kusunda and Bastacola in Jharkhand; and Patna in Bihar. PM can cause lung cancer, strokes and heart disease over the long term, as well as triggering symptoms such as heart attacks.
"Air pollution is a national public health crisis as almost none of the cities have bothered to keep air pollution in check, making them unlivable. We are facing an apocalypse right now due to unbreathable air," Greenpeace India quoted its campaigner, Sunil Dahiya, as saying.
A Hindustan Times analysis of the Central Pollution Control Board's data since 2002 showed that all major cities in north and central India, including Gwalior, Kanpur, Ludhiana and Surat, recorded higher pollution rise in percentage terms between 2002 and 2014 compared to Delhi.
These cities had lower baseline pollution load than Delhi and rise in air pollution had been a recent phenomenon unlike Delhi, where the first spurt was noticed in early 1990s.
The 2016 WHO report put Delhi as the 11th most polluted city, but smaller towns had galloped past the national capital. Gwalior and Allahabad took the second and third spot, respectively. Zabol in Iran was the world's most polluted city in 2016.
The report considered annual average concentration of the particulate matter (PM) 2.5 in 3,000 cities from 103 countries. Delhi's data is from 2013 and that for most Indian cities are from 2012.
The report – the Global Urban Ambient Air Pollution Database – showed India's upcoming towns and cities were grappling with toxic air, possibly because of limited government intervention and increasing vehicular congestion.
India's pollution watchdog data for the past 15 years shows mounting air pollution in smaller cities such as Gwalior, Allahabad, Kanpur, Jodhpur, Ludhiana and Bhopal has outpaced that in big metro cities.
Uttar Pradesh had four of the world's 20 most polluted cities. Other than Allahabad, the other UP cities in the top 20 were Kanpur (15), Firozabad (17) and Lucknow (18).
Bihar's capital Patna was sixth, Chhattisgarh's capital Raipur seventh, Punjab towns of Ludhiana and Khanna were 12th and 16th respectively. Uttar Pradesh had the largest number of polluted cities followed by Madhya Pradesh and Rajasthan.
.