Buddha's teachings more relevant than ever before, says President
Mar 20, 2017 07:44 PM IST
In a world ravaged by mindless violence, Buddha's preaching of peace was just the right prescription for sanity, President Pranab Mukherjee said at the international Buddhist conference at Rajgir
RAJGIR President Pranab Mukherjee said here on Sunday that the preachings of Buddha were more relevant today than ever before in a world ravaged by violence, mindless killing and wanton destruction of human values and heritage.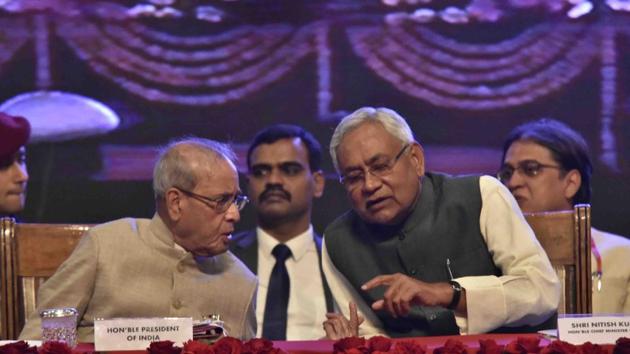 He was speaking as the chief guest at the valedictory session of the three-day International Buddhist conference, organised by the ministry of culture, government of India, and Nava Nalanda Mahavihara, deemed university, at the International Convention Centre, at the south central resort town of Rajgir.
The conference was inaugurated by the Dalai Lama on March 17.
"Universities are places for open minds, free discussions, raising questions and finding answers to satisfy curiosity. Education means development of mind, which requires constant interaction with teachers, fellow students and others. The atmosphere must be free from prejudice, intolerance and violence and be conducive to free flow of ideas to make the world a better place," he added.
Citing the destruction of monumental Buddha statues of the Bamiyan Valley in Afghanistan by the Taliban, Mukherjee said violence was not confined to injuries to fellow citizens. It was "wanton destruction of values, heritage and assets built over centuries".
"No part of the world today is free from the scourge of violence. The world is becoming more and more complex, with murders and attacks on clubs, restaurants and musical concerts and some individuals or organisations madly claiming responsibility for bloodshed. The big question today is how to combat this mindset," he said.
Mukherjee said terrorism was not just action of a few individuals or groups. Rather, it was a mental aberration and a reflection of a perverted mindset.
"It is a tendency not to see anything positive and focus on negatives only. Time has come for the international community to think together to check this menace. While violence reflects pollution of mind, the world also grapples with other forms of pollution, viz. pollution in rivers, mountains and urban conglomerations. But the worst is the pollution of human mind," he added.
Underlining the growing relevance of Buddha's teachings, the President said even emperor Ashoka had a brilliant twist in his life, which converted him from a conqueror to a missionary. "And today, history remembers Ashoka not as a warrior but as a missionary," he said.
It was precisely the quest of real knowledge, triggering change of heart, that drew scholars and students from across the world to Nalanda and institutions like Vikramshila, Takshila and others in the ancient times.
Referring to Rabindra Nath Tagore, who questioned the silence of intellectuals when famed scientist Albert Einstein was driven out of Germany just because he was a Jew, Mukherjee said that one of the replies he got was that "the course of human civilisation is never decided by any emperor or conqueror".
"And we have seen that. After Hitler, Mussolini and others, in came Mohandas Karamchand Gandhi. The challenge today is to find the correct path and that path is the one shown by Buddha. Gandhiji himself admitted that he was a practicing Buddhist," he said, appreciating Nav Nalanda Mahavihar for coming up with reprint of the all 41 volumes of Pali Tripitaka in in Devanagri script.
Conflict resolution centre
Chief minister Nitish Kumar said that peace was the biggest casualty across the world due to "growing intolerance, distrust and hatred".
"Buddhism can show the way to the world, as it talks of the middle path, not extremes. It was precisely the reason why I had suggested opening of a conflict resolution centre in Nalanda University so that it could offer a platform and solutions to world's pressing problems through peaceful dialogue and debate," he added.
Kumar said Rajgir was a confluence point of many religions and could be an ideal place for conflict resolution, as Bihar remains free from all kinds of "conflict and intolerance" and sets an example of brotherhood and. harmony.
"I have also allocated separate land for the conflict resolution centre in Rajgir, and I hope people from all parts of the world will come here to resolve issues in a peaceful manner," he added.
Referring to the two big religious events hosted in the state recently - Guru Gobind Singh's 350th Prakash Parv at Patna Sahib and the Dalai Lama-led Kal Chakra Puja at Bodh Gaya - the chief minister said the occasions had showcased Bihar's true culture of brotherhood and showed why there was 'bahar' in Bihar.
Kumar also urged President Pranab Mukherjee to accept the Bihar government's invitation for the launch of centenary celebrations of Mahatma Gandhi's Champaran Satyagrah. "After Prakash Parv and Kal Chakra Puja, the international Buddhist conclave has brought scholars and thinkers from so many countries to Bihar.
"Next is Champaran Satyagrah.celebration. Such events help build the right kind of environment to spread the message of love, peace and brotherhood. I think if even 10% of the new generation is able to imbibe these values, the world will be a much better place," he added.
Governor Ram Nath Kovind, who happens to be president of the Nav Nalanda Mahavihar society, said the initiative of the deemed University to organise the conference was most relevant in the context of modern day challenges and crises.
"Buddhism has the ability to resolve conflicts. It is a way of life for self discipline and self discovery," he added.
Earlier, the vice chancellor of Nav Nalanda Mahavihar, ML Srivastava presented the Nalanda declaration, an outcome of the conference attended by representatives and monks from 30 countries. The VC of Xentral University of Tibetan Studies proposed a vote of thanks.
BLURB
Kumar also urged President Pranab Mukherjee to accept the Bihar government's invitation for the launch of centenary celebrations of Mahatma Gandhi's Champaran Satyagrah.
.