Catholic priest arrested for 'forced conversion' in MP after Bajrang Dal men assault clergymen
Two priests and seminarians from St Ephrem's Theological College, Satna, were conducting a carol singing programme when Bajrang Dal activists allegedly attacked them.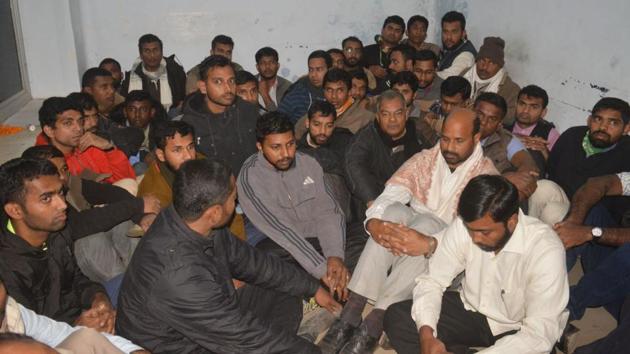 Updated on Dec 15, 2017 06:49 PM IST
Hidustan Times, Bhopal/Satna |
Anupam Pateriya, Shruti Tomar & Amit Singh
A Catholic priest was arrested on charges of forced religious conversion and several other members of the minority community were allegedly assaulted by activists of a right-wing Hindu group at a police station in Madhya Pradesh's Satna, police said on Friday.
The vehicle of a Catholic priest was also set on fire, allegedly by the activists.
Though police confirmed the arrest of father George Mangalapilly, they denied allegations that members of the clergy were assaulted at the police station. Mangalapilly is a professor at St Ephrem's Theological College in Satna.
The Christians were allegedly intercepted and accused by Bajrang Dal activists of converting people with lure and force during a carol-singing programme in Jawahar Nagar Bhumkahar village near Satna, about 485 km from state capital Bhopal.
The arrest was made on the basis of a complaint lodged by one Dharmendra Kumar Dohar, who said he was lured with money to convert to Christianity.
The Catholic Church of Madhya Pradesh denied the allegations of forcible conversion and accused police of siding with the Hindu activists. Eight other clergymen were allegedly detained when they went to the Civil Lines police station to enquire about the arrested people.
Religious conversion is a sensitive issue in India with Hindu groups often accusing Christian missionaries of luring poor villagers -- through cash and kind -- to convert to their faith.
Madhya Pradesh, a BJP-ruled state, has an estimated 2.1 lakh Christian population, as per the 2011 census.
Leo Cornelio, the archbishop of Bhopal diocese, described the incident as "repeated shameful acts of the fundamentalists to rise above the law in attacking the Christian brothers who are spreading love, peace and brotherhood".
"It is an attempt to divide the society with false accusations on conversion to bring down the development and the core foundation of our country. It is painful to notice that the government is insensitive towards the growing intolerance on minorities," he said in a statement.
Satna superintendent of police, Rajesh Hingankar, said police brought all clergymen – said to be about 32 – to the police station as they had been surrounded by angry villagers.
"Except the priest who was arrested others were allowed to go on Friday. It is yet to be known as to how the car caught fire," he added.
Talking to Hindustan Times over phone from the police station Fr George said the cultural programme at the village was a routine event held every year ahead of Christmas celebrations.
He alleged they were forced to squat in a room at the police station at the night in inhuman condition without any warm clothes.
Yatendra Pathak, the Bajrang Dal's district convener, said they got information that the missionaries were luring people from the Dalit locality for conversion.
He, however, denied attacking the minority community members or any of them setting the car afire.
In his complaint, Dharmendra Dohar alleged that Christian community members have been visiting the village for the past two years and luring him with money to convert to Christianity.
"Because of their threat and lure I have converted to Christianity. They gave us a Bible and Rs 5000 in cash," he said.
Close Story
Personalise your news feed. Follow trending topics