CCTV footage of Dhanbad judge's road accident emerges; SIT formed to probe death
Updated on Jul 28, 2021 10:44 PM IST
Dhanbad police SP is leading a team of investigators to probe the death of additional sessions judge Uttam Anand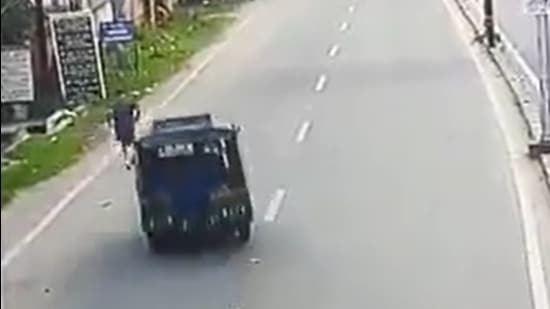 RANCHI: A special investigation team (SIT) has been constituted in Jharkhand to investigate the death of a judge who was hit by a three-wheeler early on Wednesday. Additional sessions and district judge Uttam Anand was out for his daily morning jog when a three-wheeler hit him.
The SIT was set up after CCTV footage emerged in which the three-wheeler was seen suddenly swerving to the extreme left of the road and hitting the judge before fleeing the spot
The accident took place a little over 5am on Wednesday.
Judge Uttam Anand was rushed to the city's medical college by passers-by but doctors said he was dead by the time he was brought. No one knew who he was.
It was only much later when the judge's family, worried that he hadn't returned home by 7am, notified the police.
The judge's driver who accompanied the police team after it was informed of a road accident, identified his body at the hospital.
"I have constituted an SIT led by the city SP who will look into all possible reasons. The CCTV footage and all related aspects would be analysed and identify the vehicle. We have respected the victim's family members to file a complaint and we will register an FIR," said Dhanbad senior superintendent of police (SSP) Sanjeev Kumar.
The judge is reported to have recently rejected the bail plea of an alleged contract killer from Uttar Pradesh, who is in Dhanbad jail in a high-profile murder case. But officials said it was too early to link the order to this case.
Police said the SIT would look at footage from other CCTV cameras on the roads used by the three-wheeler to identify the vehicle and see if there was a pattern.