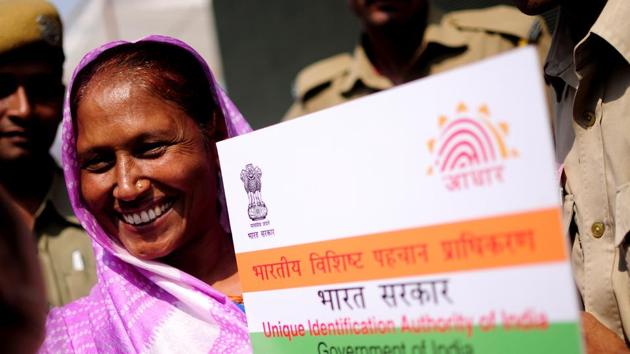 Supreme Court's order on mandatory linking of Aadhaar today
Attorney General told the Supreme Court that Aadhaar should remain mandatory for opening of new bank account.
UPDATED ON DEC 14, 2017 11:56 PM IST
The Supreme Court will pronounce on Friday its order on several petitions seeking an interim stay on government directives making Aadhaar mandatory for various schemes and services.
A five-judge bench led by Chief Justice Dipak Misra concluded the hearing on Thursday during which attorney general KK Venugopal said the government has extended the deadline for linking the 12-digit unique identity number to various services from December 31 to March 31, 2018.
On giving an extension to link mobile phone to Aadhaar, Venugopal said the government was willing to extend the deadline from February 6, 2018 subject to the court's order.
The Centre has referred to an earlier SC verdict to make Aadhaar mandatory for mobile phones, saying the top court had directed it to verify all mobile connections through Aadhaar.
The government is pushing for wide use of the 12-digit Aadhaar which it says is necessary to plug leakages and corruption in various welfare schemes and for national security.
Critics and activists say the biometric identify number is an infringement of privacy as the ID card links enough data to create a full profile of a person's spending habits, their friends, property they own and a trove of other information. There have also been concerns over data breaches.
Venugopal, however, asked the court to let Aadhaar remain mandatory for opening new bank accounts as it was meant to authenticate new account holders. In his brief submission, he countered the charges leveled by the petitioners, saying it was done for identification purposes.
The bench told Venugopal it will deal with his plea related to bank accounts in its interim order as it indicated to extend the deadline for mobile phone linkages. The court fixed January 10 to start the final hearing on petitions contesting the validity of the Aadhaar law.
Advocates representing those opposing Aadhaar cited earlier SC orders to assert that court had restrained making Aadhaar mandatory.
"Once directions are issued by this court, everyone has to obey it. At least protect the institution first before the citizens," senior counsel Shyam Divan said.
He read out several directives, issued by UGC and CBSE, to point out how various government authorities have violated court orders. "You now need Aadhaar for nursery admissions," he said.
When Venugopal contended the notifications were validated by law, Divan said government could not have released directives that were violative of the court's orders despite having legislation.
"Though the Act was enacted, Union of India will still have to approach the court and seek variation in the interim order," he said.
Senior advocate Gopal Subramanium, representing another petitioner said, SC had insulated citizens against compulsion to part with biometrics.
"An interim order protecting citizens fundamental rights cannot be obliterated by legislation," he told the court, insisting the government should have maintained sanctity of the judicial order.
Close