China demands protection of its firms, nationals after flag row at Oppo factory
The incident wasn't covered in detail in Chinese media but it did come to the notice of a few hundred users of China's Twitter, Weibo.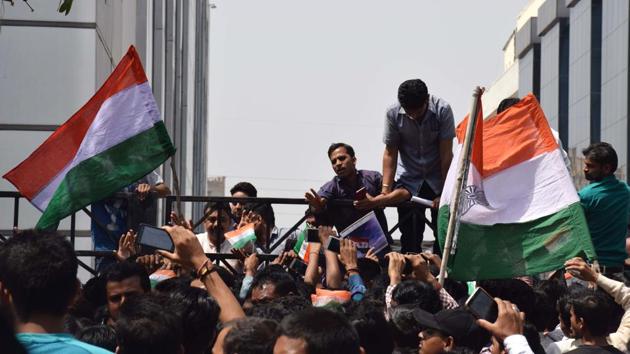 Updated on Mar 29, 2017 10:15 PM IST
Beijing, Hindustan Times |
Sutirtho Patranobis
China said on Wednesday it hoped the rights of its companies and nationals working in India would be safeguarded, reacting to protests against a Chinese employee of a mobile phone company for allegedly tearing up an Indian flag.
A large posse of police had to be deployed inside and outside the Noida Sector 63 office of Oppo, the rapidly-expanding Chinese phone company and the main sponsor of the Indian cricket team from next month.
"We have seen the report. As far as we know, the company is in touch with the local police. We hope this issue can be resolved properly," Lu Kang, foreign ministry spokesperson said, when asked to comment about the incident at the regular presser in Beijing.
"The Chinese government always asks its Chinese enterprises and staff overseas to abide by local law and regulations and respect local practices and customs," Lu added.
"We also hope that the legitimate rights of the Chinese enterprises and staff will be safeguarded under the strict regulations of law," he added.
Police registered a case against the person, who worked as a production manager in Oppo and allegedly tore and threw the Tricolour in the dustbin at the firm's office on Tuesday evening. Police said they would collect CCTV footage from Oppo, to establish the claims of the Indian complainants.
The incident wasn't covered in detail in Chinese media but it did come to the notice of a few hundred users of China's Twitter, Weibo.
One user said that Indians should boycott Oppo products while another commented that China's relations with its neighbours weren't good and this was an example of bad relations.
Some posts were sarcastic posts as well.
One Weibo user, using a method of satire commonly applied to nationalistic Chinese, said:
"If 1.2 billion Indians do not buy Chinese goods, Chinese economy would be in depression, and if they do not buy Chinese good for one year, China would collapse. All the Indians who see this picture have to forward it, or you are not an Indian," the user wrote using a satirical vein.
One weibo user saw a conspiracy theory in it: "The event cannot be so simple. If it's not for advertising, there must be other reason. No one would do that in normal situation," the user said.
One website, Guancha.cn connected the protests following the incident to Oppo's sponsoring the Indian cricket team and the rising trend of nationalism in India.
It said that it was possible that some Indians feel they not only couldn't match Chinese goods through the "Make in India" campaign but now the country's famous national sports brand, the Indian cricket team, would have the name of a Chinese company as a logo.
The website also said that the company was "really worried about the incident" and that they respect India and 99% of its employees (in India) were Indians.
Close Story