Citing terrorism, India says time not ripe for Saarc summit in Pakistan
Apr 25, 2018 12:03 AM IST
Pakistan's efforts to host the summit in November 2016 went in vain after India, Afghanistan, Bhutan and Bangladesh opted out citing almost similar reasons.
Even as Pakistan moves to host the Saarc (South Asian Association for Regional Cooperation) summit, New Delhi doesn't believe the atmosphere is conducive, said persons familiar with the thinking.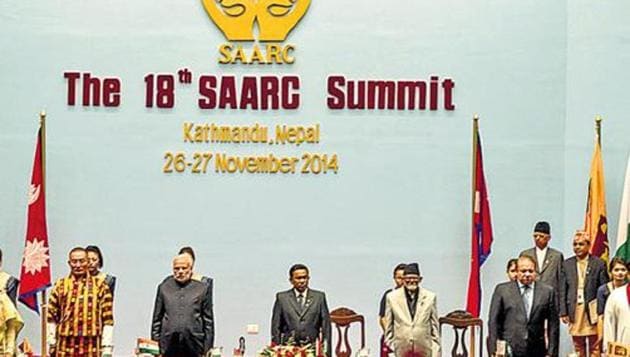 Pakistan has been making efforts to host the summit, which was to be initially held in November 2016. However, in a synchronised move in September that year, India, Afghanistan, Bhutan and Bangladesh informed the Saarc secretariat that its leaders would be unable to attend, citing almost similar reasons. The four countries had linked regional cooperation to an atmosphere free of terror – meaning that Pakistan should stop sponsoring terrorism which is destabilising the region and stop interfering in the internal affairs of other countries.
All countries have to agree to the summit being hosted.
Delhi's position remains the same: to isolate Pakistan on the issue of terrorism in the grouping of eight countries, which Pakistan opposes by saying that India is looking for reasons to avoid the holding of the meet.
A source said: "Pakistan continues with cross-border terrorism and we don't think the atmosphere is conducive to the holding of Saarc summit anytime now."
The Pakistan government, led by Prime Minister Shahid Khaqan Abbasi, has been making efforts to host the summit or to ensure it is not isolated in the group. Abbasi visited Nepal early this year even before the new government was in place in Kathmandu.
Sri Lankan President Maithripala Sirisena was the chief guest at Pakistan's national day in March and the Pakistan army chief also paid a visit to the Maldives as a part of Islamabad's efforts to step up ties with Saarc countries.