CM Virbhadra known for corruption, BJP CMs known for development: Amit Shah
Published on Sep 22, 2017 09:21 PM IST
Former state Chief Ministers Shanta Kumar and Prem Kumar Dhumal were sharing the dais with Shah at a rally in Kangra.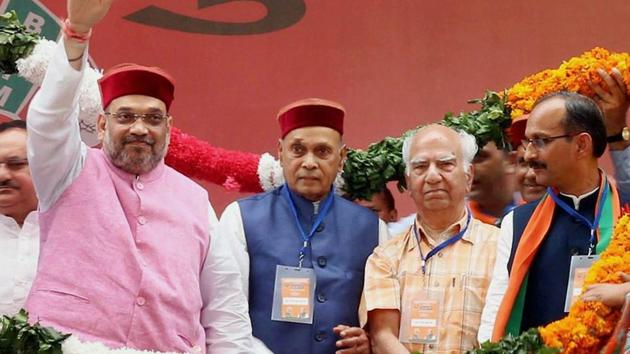 Indo Asian News Service, Kangra |
Indo Asian News Service
BJP President Amit Shah on Friday launched a scathing attack on the Congress government in Himachal Pradesh saying its Chief Minister Virbhadra Singh is synonymous with corruption.
"He (Virbhadra) is known as a corrupt Chief Minister," he said at a public rally in this town, some 200 km from Shimla.
Shah, who had donned a Himachali cap, also predicted a landslide victory for his Bharatiya Janata Party in the upcoming assembly elections, saying the BJP's Chief Ministers were instead known for bringing development.
"Shanta (Kumar) was known as 'paani wala mukhya mantri' (for laying emphasis on providing portable water) and (Prem Kumar) Dhumal was popular as 'sadak wala mukhya mantri' (for constructing roads)," he said.
Two-time former Chief Ministers Kumar and Dhumal were sharing the dais at the rally along with Union Health Minister JP Nadda, who belongs to the hill state, besides state BJP chief Satpal Singh Satti.
Shah, in his around 15 minute address, said it was for the first time that state's reputation was severely dented due to corruption allegation against the Chief Minister.
"Virbhadra Singh has started an unprecedented trend of not resigning even after allegations of corruptions," he said.
Shah also claimed that the funds sanctioned by the central government were not being utilised appropriately and the state government has gone bankrupt with a fiscal deficit of Rs 46,000 crore.
He claimed the party would win at least 50 seats in the 68-member assembly.
The hill state is likely to go the polls in November.
This is Shah's second visit to Kangra district in less than five months as it is state's biggest district with 15 assembly seats but the BJP did badly here in the 2012 elections.
On May 4, he visited Palampur town in the district to attend the concluding function of a two-day party conclave.