Coming soon, flying rickshaws in India
Based on drone technology, air rickshaws can revolutionise urban transportation and solve traffic gridlocks across Indian cities.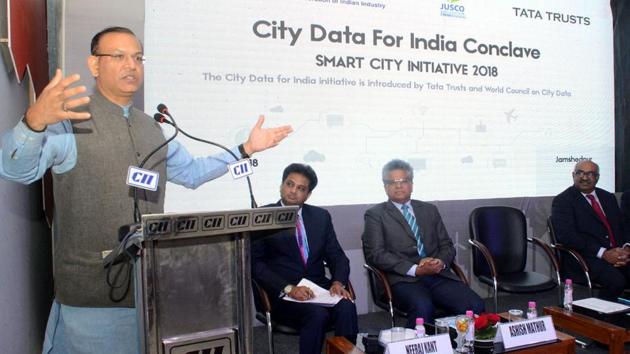 Updated on Jan 10, 2018 09:52 AM IST
Hindustan Times, Jamshedpur | By Manoj Choudhary
If you are tired of traffic jams in the city, help may be on the way in the form of flying rickshaws. And no, this is no flight of fancy or science fiction.
Minister of state (MoS) for civil aviation Jayant Sinha said on Tuesday his ministry was exploring the possibility of 'air rickshaws' based on drone technology for easy transportation service.
"Air rickshaw based on drone technology can be the best transportation service in the country and the ministry is drafting regulations in this regard," he said, addressing corporate giants at City Data for India Conclave 2018.
The conclave was organised by Tata Steel in association with Confederation of Indian Industries (CII) at the JRD Tata Sports Complex here.
Sinha said a recent survey revealed that the cost of travelling by air was almost same as the cost of travelling by auto rickshaws.
"To cover one kilometre distance by an auto, city residents pay only around Rs 4. This was nearly the same amount one pays to travel one kilometre by air, the flight ticket amount is high as several thousand kilometers are being covered during one journey," he added.
Sinha did not give a time frame by which air rickshaws could become a reality.
The minister said pilot projects on air service through drones are running in countries like the UAE and Germany and this technology could also be used for mapping, security, survey of mineral sites, product delivery and defence as well.
Sinha also asked Tata Steel and Tata Motors to set up and advanced lab to work on innovative ideas similar to drone technology.
Sunil Bhadkaran, vice president (corporate services), Tata Steel, said the company was working on collecting data to meet the future infrastructure demands.
Vice chairman of CII (Jharkhand state council), Killol Kamani said around 70% population in the country would start residing in cities by 2050 and a smarter data collection as well as planning would be required for making cities smarter.
smarter.
Close Story