Courts cannot force husband to 'keep wife', says Supreme Court
Nov 26, 2017 08:11 PM IST
The Supreme Court made the observation while hearing a case in which the husband was booked for dowry harassment.
The Supreme Court has said that courts cannot force a husband to "keep his wife" as it asked a man to deposit Rs 10 lakh as interim maintenance for his estranged wife and upkeep of their son.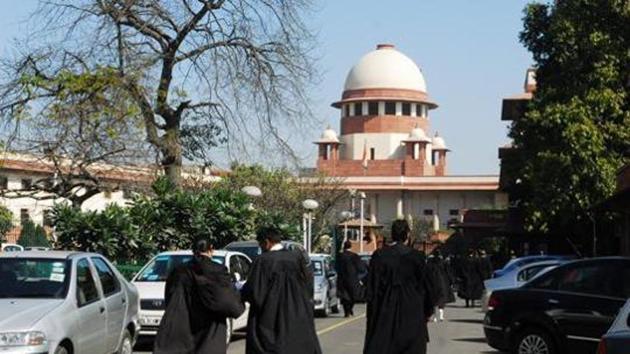 The apex court restored the bail order of the Madras high court which was cancelled after the husband refused to comply with the compromise agreement.
"We cannot force a husband to keep his wife. It's a human relationship. You (man) deposit Rs 10 lakh with the trial court which will be withdrawn by the wife unconditionally to meet her immediate requirement," a bench of justices Adarsh Goel and UU Lalit said.
When the counsel appearing for the man, a pilot, said that the amount be reduced, the bench said that apex court is not a family court and no negotiations can be held.
"If you agree to deposit Rs 10 lakh immediately, the bail order would be restored," the bench said.
The counsel then agreed to deposit Rs 10 lakh but sought some time.
"We are inclined to restore the order of bail in view of the statement made on behalf of the petitioner that the petitioner will deposit a sum of Rs 10 lakh with the trial court within a period of four weeks," the bench said.
It said that the amount may be withdrawn by the wife unconditionally, so that she can meet immediate requirements for herself and the child.
"The said amount will be subject to adjustment in any future proceedings. The parties are free to reach mutual settlement for rehabilitation, as was earlier proposed. Accordingly, the order of bail will stand restored subject to above stipulations," the court said.
It directed that the pending proceedings may be completed by the trial court, as far as possible within a period of three months, as already directed by the high court.
The Madurai bench of Madras high court had on October 11 cancelled the man's anticipatory bail saying he entered into a compromise memo with the complainant but contrary to the compromise memo, had gone back from his promise and filed an evasive counter affidavit to wriggle out from his responsibilities.
It had noted that the very first condition of the memo that he would take her and their child to his place of working along with himself has not been fulfilled and under the pretext of reunion made the wife drop the departmental action that was initiated against him.
The high court had also noted that due to the false promise, the life of their child is in limbo as a transfer certificate has been obtained from the school.
It directed the police to complete the investigation and file the charge sheet before the trial court within three months.
The husband was booked under various sections of IPC including dowry harassment.