Covid-19: A factsheet on current situation in India
Feb 27, 2022 04:00 PM IST
Daily Covid-19 infections in the country are on the rise primarily due to the Omicron variant.
After staying below the 10,000-mark for several days, India's daily cases of the coronavirus disease (Covid-19) are on the rise yet again, with the Omicron variant contributing to a significant number of fresh infections. This latest surge in cases has prompted state governments to re-impose restrictions to contain the spread of the viral disease.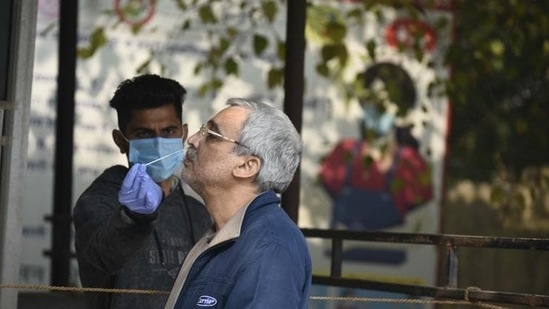 Also, even as Omicron continues to wreak havoc across the globe, a new, more mutated strain of coronavirus has been detected in France. Named IHU, French scientists have linked the variant to travel with Cameroon.
Here's a factsheet on the current Covid-19 situation in India:
February 27
New cases: 10,273
Overall cases: 4,29,16,117
New recoveries: 20,439
Total recoveries: 4,22,90,921
New deaths: 243
Overall deaths: 5,13,724
Active cases: 1,11,472
Daily positivity rate: 1.00%
Weekly positivity rate: 1.26%
New vaccine doses jabbed: 24,05,049
Total vaccination coverage: 1,77,44,08,129
February 26
New cases: 11,499
Overall cases: 4,29,05,844
New recoveries: 23,598
Total recoveries: 4,22,70,482
New deaths: 255
Overall deaths: 5,13,481
Active cases: 1,21,881
Daily positivity rate: 1.01%
Weekly positivity rate: 1.36%
New vaccine doses jabbed: 21,41,821
Total vaccination coverage: 1,77,40,59,720
February 25
New cases: 13,166
Overall cases: 4,28,94,345
New recoveries: 26,988
Total recoveries: 4,22,46,884
New deaths: 302
Overall deaths: 5,13,226
Active cases: 1,34,235
Daily positivity rate: 1.28%
Weekly positivity rate: 1.48%
New vaccine doses jabbed: 32,04,426
Total vaccination coverage: 1,76,86,89,266
February 24
New cases: 14,148
Overall cases: 4,28,81,179
New recoveries: 30,009
Total recoveries: 4,22,19,896
New deaths: 302
Overall deaths: 5,12,924
Active cases: 1,48,359
Daily positivity rate: 1.22%
Weekly positivity rate: 1.60%
New vaccine doses jabbed: 30,49,988
Total vaccination coverage: 1,76,52,31,385
February 23
New cases: 15,102
Overall cases: 4,28,67,031
New recoveries: 31,377
Total recoveries: 4,21,89,887
New deaths: 278
Overall deaths: 5,12,622
Active cases: 1,64,522
Daily positivity rate: 1.28%
Weekly positivity rate: 1.80%
New vaccine doses jabbed: 26,88,373
Total vaccination coverage: 1,76,47,86,112
February 22:
New cases: 13,405
Overall cases: 4,28,51,929
New recoveries: 34,226
Total recoveries: 4,21,58,510
New deaths: 235
Overall deaths: 5,12,344
Active cases: 1,81,075
Daily positivity rate: 1.24%
Weekly positivity rate: 1.98%
New vaccine doses jabbed: 30,62,731
Total vaccination coverage: 1,76,15,75,119
February 21:
New cases: 16,051
Overall cases: 4,28,38,524
New recoveries: 37,901
Total recoveries: 4,21,24,284
New deaths: 206
Overall deaths: 5,12,109
Active cases: 2,02,131
Daily positivity rate: 1.93%
Weekly positivity rate: 2.12%
New vaccine doses jabbed: 32,03,706
Total vaccination coverage: 1,75,78,78,193
February 20:
New cases: 19,968
Overall cases: 4,28,22,473
New recoveries: 48,847
Total recoveries: 4,20,86,383
New deaths: 673
Overall deaths: 5,11,903
Active cases: 2,24,187
Daily positivity rate: 1.68%
Weekly positivity rate: 2.27%
New vaccine doses jabbed: 30,81,336
Total vaccination coverage: 1,75,37,22,697
Februray 19:
New cases: 22,270
Overall cases: 4,28,02,505
New recoveries: 60,298
Total recoveries: 4,20,37,536
New deaths: 325
Overall deaths: 5,11,230
Active cases: 2,53,739
Daily positivity rate: 1.80%
Weekly positivity rate: 2.50%
New vaccine doses jabbed: 27,47,926
Total vaccination coverage: 1,75,33,01,956
February 18:
New cases: 25,920
Overall cases: 4,27,80,235
New recoveries: 66,254
Total recoveries: 4,19,77,238
New deaths: 492
Overall deaths: 5,10,905
Active cases: 2,92,092
Daily positivity rate: 2.07%
Weekly positivity rate: 2.76%
New vaccine doses jabbed: 37,86,806
Total vaccination coverage: 1,74,64,99,461
February 17:
New cases: 30,757
Overall cases: 4,27,54,315
New recoveries: 67,538
Total recoveries: 4,19,10,984
New deaths: 541
Overall deaths: 5,10,413
Active cases: 3,32,918
Daily positivity rate: 2.61%
Weekly positivity rate: 3.04%
New vaccine doses jabbed: 33,62,813
Total vaccination coverage: 1,74,59,64,833
February 16:
New cases: 30,615
Overall cases: 4,27,23,558
New recoveries: 82,988
Total recoveries: 4,18,43,446
New deaths: 514
Overall deaths: 5,09,872
Active cases: 3,70,240
Daily positivity rate: 2.45%
Weekly positivity rate: 3.32%
New vaccine doses jabbed: 31,12,641
Total vaccination coverage: 1,74,19,80,825
February 15:
New cases: 27,409
Overall cases: 4,26,92,943
New recoveries: 82,817
Total recoveries: 4,17,60,458
New deaths: 347
Overall deaths: 5,09,358
Active cases: 4,23,127
Daily positivity rate: 2.23%
Weekly positivity rate: 3.63%
New vaccine doses jabbed: 37,69,847
Total vaccination coverage: 1,73,82,43,994
February 14:
New cases: 34,113
Overall cases: 4,26,55,534
New recoveries: 91,930
Total recoveries: 4,16,77,641
New deaths: 346
Overall deaths: 5,09,011
Active cases: 4,78,882
Daily positivity rate: 3.19%
Weekly positivity rate: 3.99%
New vaccine doses jabbed: 11,66,993
Total vaccination coverage: 1,72,95,87,490
February 13:
New cases: 44,877
Overall cases: 4,26,31,421
New recoveries: 1,17,591
Total recoveries: 4,15,85,711
New deaths: 684
Overall deaths: 5,08,665
Active cases: 5,37,045
Daily positivity rate: 3.17%
Weekly positivity rate: 4.46%
New vaccine doses jabbed: 49,16,801
Total vaccination coverage: 1,72,81,49,447
February 12:
New cases: 50,407
Overall cases: 4,25,86,544
New recoveries: 1,36,962
Total recoveries: 4,14,68,120
New deaths: 804
Overall deaths: 5,07,981
Active cases: 6,10,443
Daily positivity rate: 3.48%
Weekly positivity rate: 5.07%
New vaccine doses jabbed: 44,63,682
Total vaccination coverage: 172,75,94,539
February 11:
New cases: 58,077
Overall cases: 4,25,36,137
New recoveries: 1,50,407
Total recoveries: 4,13,31,158
New deaths: 657
Overall deaths: 5,07,177
Active cases: 6,97,802
Daily positivity rate: 3.89%
Weekly positivity rate: 5.76%
New vaccine doses jabbed: 48,18,867
Total vaccination coverage: 1,71,79,51,432
February 10:
New cases: 67,084
Overall cases: 4,24,78,060
New recoveries: 1,67,882
Total recoveries: 4,11,80,751
New deaths: 1,241
Overall deaths: 5,06,520
Active cases: 7,90,789
Daily positivity rate: 4.44%
Weekly positivity rate: 6.58%
New vaccine doses jabbed: 46,44,382
Total vaccination coverage: 1,71,28,19,947
February 9:
New cases: 71,365
Overall cases: 4,24,10,976
New recoveries: 1,72,211
Total recoveries: 4,10,12,869
New deaths: 1,217
Overall deaths: 5,05,279
Active cases: 8,92,828
Daily positivity rate: 4.54%
Weekly positivity rate: 7.57%
New vaccine doses jabbed: 44,08,918
Total vaccination coverage: 1,71,24,89,915
February 8:
New cases: 67,597
Overall cases: 4,23,39,611
New recoveries: 1,80,456
Total recoveries: 4,08,40,658
New deaths: 1,188
Overall deaths: 5,04,062
Active cases: 9,94,891
Daily positivity rate: 5.02%
Weekly positivity rate: 8.30%
New vaccine doses jabbed: 55,78,297
Total vaccination coverage: 1,70,21,72,615
February 7:
New cases: 83,876
Overall cases: 4,22,72,014
New recoveries: 1,99,054
Total recoveries: 4,06,60,202
New deaths: 895
Overall deaths: 5,02,874
Active cases: 11,08,938
Daily positivity rate: 7.25%
Weekly positivity rate: 9.18%
New vaccine doses jabbed: 50,48,778
Total vaccination coverage: 1,70,15,10,140
February 6:
New cases: 1,07,474
Overall cases: 4,21,88,138
New recoveries: 2,13,246
Total recoveries: 4,04,61,148
New deaths: 865
Overall deaths: 5,01,979
Active cases: 12,25,011
Daily positivity rate: 7.42%
Weekly positivity rate: 10.20%
New vaccine doses jabbed: 45,10,770
Total vaccination coverage: 1,69,46,26,697
February 5:
New cases: 1,27,952
Overall cases: 4,20,80,664
New recoveries: 2,30,814
Total recoveries: 4,02,47,902
New deaths: 1,059
Overall deaths: 5,01,114
Active cases: 13,31,648
Daily positivity rate: 7.98%
Weekly positivity rate: 11.21%
New vaccine doses jabbed: 40,57,946
Total vaccination coverage: 1,69,40,55,710
February 4:
New cases: 1,49,394
Overall cases: 4,19,52,712
New recoveries: 2,46,674
Total recoveries: 4,00,17,088
New deaths: 1,072
Overall deaths: 5,00,055
Active cases: 14,35,569
Daily positivity rate: 9.27%
Weekly positivity rate: 12.03%
New vaccine doses jabbed: 42,95,142
Total vaccination coverage: 1,68,92,38,289
February 3:
New cases: 1,72,433
Overall cases: 4,18,03,318
New recoveries: 2,59,107
Total recoveries: 3,97,70,414
New deaths: 1,008
Overall deaths: 4,98,983
Active cases: 15,33,921
Daily positivity rate: 10.99%
Weekly positivity rate: 12.98%
New vaccine doses jabbed: 50,11,156
Total vaccination coverage: 168,40,41,689
February 2:
New cases: 1,61,386
Overall cases: 4,16,30,885
New recoveries: 2,81,109
Total recoveries: 3,95,11,307
New deaths: 1,733
Overall deaths: 4,97,975
Active cases: 16,21,603
Daily positivity rate: 9.26%
Weekly positivity rate: 14.15%
New vaccine doses jabbed: 48,73,824
Total vaccination coverage: 167,80,54,625
February 1
New cases: 1,67,059
Overall cases: 4,14,69,499
New recoveries: 2,54,076
Total recoveries: 3,92,30,198
New deaths: 1,192
Overall deaths: 4,96,242
Active cases: 17,43,059
Daily positivity rate: 11.69%
Weekly positivity rate: 15.25%
New vaccine doses jabbed: 50,63,394
Total vaccination coverage: 167,21,94,503
January 31:
New cases: 2,09,918
Overall cases: 4,13,02,440
New recoveries: 2,62,628
Total recoveries: 3,89,76,122
New deaths: 959
Overall deaths: 4,95,050
Active cases: 18,31,268
Daily positivity rate: 15.77%
Weekly positivity rate: 15.75%
New vaccine doses jabbed: 53,58,782
Total vaccination coverage: 166,59,05,140
January 30:
New cases: 2,34,281
Overall cases: 4,10,92,522
New recoveries: 3,52,784
Total recoveries: 3,87,13,494
New deaths: 893
Overall deaths: 4,94,091
Active cases: 18,84,937
Daily positivity rate: 14.50%
Weekly positivity rate: 16.40%
New vaccine doses jabbed: 62,22,682
Total vaccination coverage: 1,65,70,60,692
January 29:
New cases: 2,35,532
Overall cases: 4,08,58,241
New recoveries: 3,35,939
Total recoveries: 3,83,60,710
New deaths: 871
Overall deaths: 4,93,198
Active cases: 20,04,333
Daily positivity rate: 13.39%
Weekly positivity rate: 16.89%
New vaccine doses jabbed: 56,72,766
Total vaccination coverage: 165,04,87,260
January 28:
New cases: 2,51,209
Overall cases: 4,06,22,709
New recoveries: 3,47,443
Total recoveries: 3,80,24,771
New deaths: 627
Overall deaths: 4,92,327
Active cases: 21,05,611
Daily positivity rate: 15.88%
Weekly positivity rate: 17.47%
New vaccine doses jabbed: 57,35,692
Total vaccination coverage: 1,64,44,73,216
January 27:
New cases: 2,86,384
Overall cases: 4,03,71,500
New recoveries: 3,06,357
Total recoveries: 3,76,77,328
New deaths: 573
Overall deaths: 4,91,700
Active cases: 22,02,472
Daily positivity rate: 19.59%
Weekly positivity rate: 17.75%
New vaccine doses jabbed: 49,69,805
Total vaccination coverage: 1,64,35,41,869
January 26:
New cases: 2,85,914
Overall cases: 4,00,85,115
New recoveries: 2,99,073
Total recoveries: 3,73,70,971
New deaths: 665
Overall deaths: 4,91,127
Active cases: 22,23,018
Daily positivity rate: 16.16%
Weekly positivity rate: 17.33%
New vaccine doses jabbed: 59,50,731
Total vaccination coverage: 1,63,58,44,536
January 25:
New cases: 2,55,874
Overall cases: 3,97,99,202
New recoveries: 267,753
Total recoveries: 3,70,71,898
New deaths: 614
Overall deaths: 490,462
Active cases: 22,36,842
Daily positivity rate: 15.52%
Weekly positivity rate: 17.17%
New vaccine doses jabbed: 62,29,956
Total vaccination coverage: 1,62,92,09,308
January 24:
New cases: 3,06,064
Overall cases: 3,95,43,328
New recoveries: 2,43,495
Total recoveries: 3,68,04,145
New deaths: 439
Overall deaths: 4,89,848
Active cases: 22,49,335
Daily positivity rate: 20.75%
Weekly positivity rate: 17.03%
New vaccine doses jabbed: 27,56,364
Total vaccination coverage: 1,62,26,07,516
Total Omicron cases: _
January 23:
New cases: 3,33,533
Overall cases:3,92,37,264
New recoveries: 2,59,168
Total recoveries: 3,65,60,650
New deaths: 525
Overall deaths: 4,89,409
Active cases: 21,87,205
Daily positivity rate: 17.78%
Weekly positivity rate: 16.87%
New vaccine doses jabbed: 71,10,445
Total vaccination coverage: 1,61,92,84,270
Total Omicron cases: _
January 22:
New cases: 3,37,704
Overall cases: 3,89,03,731
New recoveries: 2,42,676
Total recoveries: 3,63,01,482
New deaths: 488
Overall deaths: 4,88,884
Active cases: 21,13,365
Daily positivity rate: 17.22%
Weekly positivity rate: 16.65%
New vaccine doses jabbed: 67,49,746
Total vaccination coverage: 1,61,16,60,078
Total Omicron cases: 10,050
January 21:
New cases: 3,47,254
Overall cases: 3,85,66,027
New recoveries: 2,51,777
Total recoveries: 3,60,58,806
New deaths: 703
Overall deaths: 4,88,396
Active cases: 20,18,825
Daily positivity rate: 17.94%
Weekly positivity rate: 16.56%
New vaccine doses jabbed: 70,49,779
Total vaccination coverage: 1,60,43,70,484
Total Omicron cases: 9,692
January 20:
New cases: 3,17,532
Overall cases: 3,82,18,773
New recoveries: 2,23,990
Total recoveries: 3,58,07,029
New deaths: 491
Overall deaths: 4,87,693
Active cases: 19,24,051
Daily positivity rate: 16.41%
Weekly positivity rate: 16.06%
New vaccine doses jabbed: 73,38,592
Total vaccination coverage: 1,59,67,55,879
Total Omicron cases: 9,287
January 19:
New cases: 2,82,970
Overall cases: 3,79,01,241
New recoveries: 1,88,157
Total recoveries: 3,55,83,039
New deaths: 441
Overall deaths: 4,87,202
Active cases: 18,31,000
Daily positivity rate: 15.13%
Weekly positivity rate: 15.53%
New vaccine doses jabbed: 76,35,229
Total vaccination coverage: 1,58,88,47,554
Total Omicron cases: 8,961
January 18:
New cases: 2,38,018
Overall cases: 3,61,19,661
New recoveries: 1,57,421
Total recoveries: 3,53,94,882
New deaths: 310
Overall deaths: 4,86,761
Active cases: 17,36,628
Daily positivity rate: 14.43%
Weekly positivity rate: 14.92%
New vaccine doses jabbed: 79,91,230
Total vaccination coverage: 1,58,04,41,770
Total Omicron cases: 8,891
January 17
New cases: 258,089
Overall cases: 3,73,80,253
New recoveries: 1,51,740
Total recoveries: 3,52,37,461
New deaths: 385
Overall deaths: 486,451
Active caseload: 16,56,341
Daily positivity rate: 19.65%
Weekly positivity rate: 14.41%
New vaccine doses jabbed: 39,46,348
Total vaccination coverage: 1,57,20,41,825
Total Omicron cases: 8,209
Omicron recoveries: 3,109
January 16
New cases: 2,71,202
Overall cases: 3,71,22,164
New recoveries: 1,38,331
Total recoveries: 3,50,85,721
New deaths: 314
Overall deaths: 4,86,066
Active caseload: 15,50,377
Daily positivity rate: 16.28%
Weekly positivity rate: 13.69%
New vaccine doses jabbed: 66,21,395
Total vaccination coverage: 1,56,76,15,454
Total Omicron cases: 7,743
Omicron recoveries: _
January 15
New cases: 2,68,833
Overall cases: 3,68.50.962
New recoveries: 1,22,684
Total recoveries: 3,49,47,390
New deaths: 402
Overall deaths: 485,752
Active caseload: 14,17,820
Daily positivity rate: 16.66%
Weekly positivity rate: 12.84%
New vaccine doses jabbed: 58,02,976
Total vaccination coverage: 1,56,02,51,117
Total Omicron cases: 6,041
Omicron recoveries: _
January 14
New cases: 2,64,202
Overall cases:
New recoveries: 1,09,345
Total recoveries: 3,48,24,706
New deaths:
Overall deaths:
Active caseload: 12,72,073
Daily positivity rate: 14.78%
Weekly positivity rate: 11.83%
New vaccine doses jabbed: 73,08,669
Total vaccination coverage: 1,55,39,81,819
Total Omicron cases: 5,753
Omicron recoveries: _
January 13
New cases: 2,47,417
Overall cases: 3,63,17,927
New recoveries: 84,825
Total recoveries: 3,47,15,361
New deaths: 380
Overall deaths: 4,85,035
Active caseload: 11,17,531
Daily positivity rate: 13.11%
Weekly positivity rate: 10.80%
New vaccine doses jabbed: 76,32,024
Total vaccination coverage: 1,54,61,39,465
Total Omicron cases: 5,488
Omicron recoveries: 2,162
January 12
New cases: 1,94,720
Overall cases: 3,60,70,510
New recoveries: 60,405
Total recoveries: 3,46,30,536
New deaths: 442
Overall deaths: 484,655
Active caseload: 9,55,319
Daily positivity rate: 11.05%
Weekly positivity rate: 9.82%
New vaccine doses jabbed:
Total vaccination coverage:
Total Omicron cases: 4,868
Omicron recoveries: 1,805
January 11, 2022:
New cases: 1,68,063
Overall cases: 3,58,75,790
New recoveries: 69,959
Total recoveries: 3,45,70,131
New deaths: 277
Overall deaths: 484,213
Active caseload: 8,21,446
Daily positivity rate: 10.64%
Weekly positivity rate: 8.85%
New vaccine doses jabbed: 92,07,700
Total vaccination coverage: 1,52,89,70,294
Total Omicron cases: 4,461
Omicron recoveries: 1,711
January 10, 2022:
New cases: 1,79,723
Overall cases: 3,57,07,727
New recoveries: 46,569
Total recoveries: 34,500,172
New deaths: 146
Overall deaths: 483,936
Active caseload: 723,619
Daily positivity rate: 13.29%
Weekly positivity rate: 7.92%
New vaccine doses jabbed: 82,76,158
Total vaccination coverage: 1,52,78,35,951
Total Omicron cases: 4,033
Omicron recoveries: 1,552
January 9, 2022:
New cases: 1,59,632 (up from 17,646 the day before)
Overall cases: 35,528,004
New recoveries: 40,863
Total recoveries: 34,453,603
New deaths: 327
Overall deaths: 483,790
Active caseload: 590,611 (1.66% of total cases)
Daily positivity rate: 10.21%
Weekly positivity rate: 6.77%
New vaccine doses jabbed: 64,05,244
Total vaccination coverage: 1,49,28,10,865
Total Omicron cases: 3,623
Omicron recoveries: 1,409
January 8, 2022:
New cases: 1,41,986 (up from 1,17,100 the day before)
Overall cases: 3,53,68,372
New recoveries: 40,895
Total recoveries: 3,44,12,740
New deaths: 285
Overall deaths: 483,463
Active caseload: 472,169 (1.34% of total cases)
Daily positivity rate: 9.28%
Weekly positivity rate: 5.66%
New vaccine doses jabbed: 90,59,360
Total vaccination coverage: 150,61,92,903
Total Omicron cases: 3,071
Omicron recoveries: 1203
January 7, 2022:
New cases: 1,17,100 (up from 90,928 the day before)
Overall cases: 3,52,26,386
New recoveries: 30,836
Total recoveries: 3,43,71,845
New deaths: 302
Overall deaths: 483,178
Active caseload: 371,363 (1.05% of total cases)
Daily positivity rate: 7.74%
Weekly positivity rate: 4.54%
New vaccine doses jabbed: 94,47,056
Total vaccination coverage: 149,66,81,156
Total Omicron cases: 3,007
Omicron recoveries: 1,199
January 6, 2022:
New cases: 90,928 (up from 58,097 the day before)
Overall cases: 3,51,09,286
New recoveries: 19,206
Total recoveries: 3,43,41,009
New deaths: 325
Overall deaths: 482,876
Active caseload: 285,401 (0.81% of total cases)
Daily positivity rate: 6.43%
Weekly positivity rate: 3.47%
New vaccine doses jabbed: 91,25,099
Total vaccination coverage: 148,67,80,227
Total Omicron cases: 2,630
Omicron recoveries: 995
January 5, 2022:
New cases: 58,097 (up from 37,379 the day before)
Overall cases: 3,50,18,358
New recoveries: 15,389
Total recoveries: 3,43,21,803
New deaths: 534
Overall deaths: 482,551
Active caseload: 214,004 (0.61% of total cases)
Daily positivity rate: 4.18%
Weekly positivity rate: 2.60%
New vaccine doses jabbed: 96,43,238
Total vaccination coverage: 147,72,08,846
Total Omicron cases: 2,135
Omicron recoveries: 828
January 4, 2022:
New cases: 37,379 (up 10.75% from 33,750 on January 3)
Cumulative cases: 34,960,261
New recoveries: 11,007
Cumulative recoveries: 34,306,414 (98.13% of total cases)
New deaths: 124
Cumulative fatalities: 482,017 (1.38%)
Change in active cases: up 26,248 from January 3
Cumulative active cases: 171,830 (0.49%)
Daily positivity rate: 3.24%
Weekly positivity rate: 2.05%
New vaccine doses administered: 9,927,797
Total vaccination coverage: 1467,018,464
Total Omicron cases: 1892
Recoveries from Omicron: 766