Gujarat's largest Muslim ghetto plans to set up modern shelter for cows
Updated on Apr 11, 2017 10:28 PM IST
Muslim leaders from the area said they have launched an anti-cow slaughter campaign to prevent the issue from becoming a rallying point for those indulging in "divisive politics" ahead of the state polls.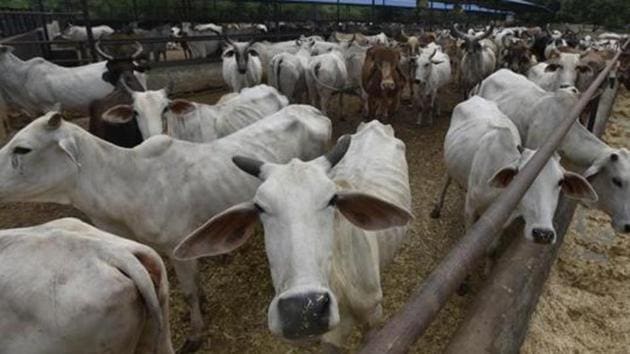 Juhapura – the largest Muslim ghetto in Gujarat – has become one of its first localities to propose setting up a modern bovine shelter, 10 days after the state government made cow slaughter punishable with life imprisonment.
The government has amended the state's bovine protection legislation to award life imprisonment to offenders, making it the country's strictest law against cow slaughter. It came a few months before the commencement of the state assembly elections in December 2017.
Juhapura, which is home to around five lakh Muslims, was set up in 1973 to rehabilitate flood victims in western Ahmedabad. The colony has attracted community members from every economic stratum – from elite Muslims to the displaced poor – during riots that occurred sporadically in the 1985-2002 period.
In the run-up to the crucial assembly election to be held later this year, Juhapura residents have begun holding mohalla meetings against cow and calf slaughter. The campaign was also part of the birth anniversary celebrations of Hazarat Ali, one of the biggest events celebrated by the community, in Juhapura-Sarkhej area on Monday night.
Muslim leaders from the area said they have launched the campaign to prevent cow slaughter from becoming a rallying point for those indulging in "divisive politics".
"We have written to the animal husbandry department about setting up a gaushala (cow shelter). Soon, our delegation will meet chief minister Vijay Rupani. Hopefully, we will be able to set up a shelter by the end of this year," said Anwar Shiekh of the Muhibban-E-Ahlul Bait Foundation.
"Islam does not allow any kind of theft. Many groups are involved in stealing cows and then slaughtering them. We have asked community members to keep away from such elements," said Imtiyaz Ladha, another leader.
"Our community believes in preserving cows. I personally rear three cows in Khanpur. Juhapura's initiative of setting up a cow shelter is welcome," said Dariyapur's Congress MLA Gyasuddin Shiekh. He is one of the only two Muslim MLAs in the state's 182-member assembly. The other one, Javeed Pirzada, also represents the Congress.
Muslim leaders said they will request the government as well as some Jain groups that own unutilised land around Juhapura to allot space for the shelter. They plan to run the gaushala through a trust or NGO. "As we are followers of sufism, we respect the sentiments of others. Besides, why let people indulging in divisive politics take advantage of such an issue?" Anwar asked.
According to a report tabled by the Comptroller and Audit General (CAG) in March, nine slaughterhouses are located in the Ahmedabad Municipal Corporation limits. These establishments, which supply chicken and mutton, are located in Jamalpur and surrounding areas in the walled city. There are nearly 300 chicken and meat shops in Juhapura.
Personalise your news feed. Follow trending topics