Dalit's house burnt as he did not say 'Ram Ram' to an upper caste man
Updated on Jan 15, 2017 10:39 PM IST
A dalit's house in Daulatpur village here was burnt down on Saturday evening because he did not say 'Ram Ram ' to an upper caste (Thakur) man of the village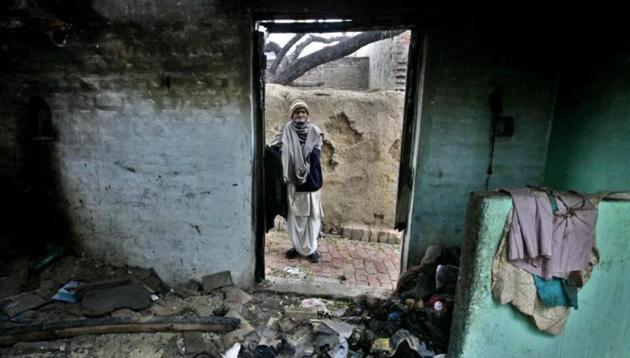 A dalit's house in Daulatpur village here was burnt down on Saturday evening because he did not say 'Ram Ram ' to an upper caste (Thakur) man of the village. A case was registered against five people and one of the accused was arrested on Sunday.
Dalit Hari Om Katheria said in his FIR that he was working in his fields when Thakur Chhotey Lal passed by. Thakur became angry as Hari Om did not wish him and so he beat up Hari Om, his wife Meera and brother Shyam Sunder. At night, Chhotey Lal and his aides reached Hari Om's house and again beat him and his family. They fired in the air and set fire to his house.
"Chhotey Lal's father Balram Singh was arrested on Sunday. Search is on for others and force has been deployed to maintain peace in the village," said S-I Surendra Rao, officiating in charge of Bewar police station.
Superintendent of police (SP) Sunil Kumar Saxena also reached the village on Sunday and assured the dalit family all help and protection.
The issue soon took a political dimension. Zonal coordinator of BSP, Deepak Painter reached the village on Sunday and condemned the incident. SP MLA Brajesh Katheria demanded early arrest of the absconding accused.