Debate on social media: Kashmiris divided on army officer's killing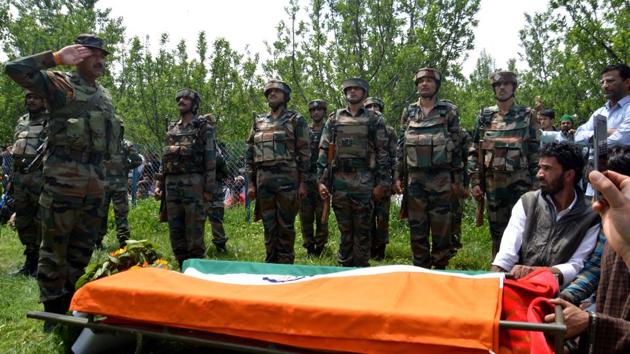 Updated on Jun 01, 2017 09:10 AM IST
Hindustan Times, Srinagar | By Ashiq Hussain
Several social media users in Kashmir, where militancy has support among sections of society, have criticised the killing of a young local army officer Lieutenant Ummer Fayaz after he was allegedly abducted by militants from the wedding ceremony of a cousin.
This is second time this month that social media has debated the rationale of killing unarmed people after five policemen and two security guards of the Jammu and Kashmir Bank were killed by suspected militants in Kulgam on May 1. Militants had refuted any role in killing of security guards.
While the condemnations over May 1 killings were widespread, the reactions this time have been subdued apparently because of the army background of Ummer Fayaz, who was recently commissioned as a lieutenant in the force.
There were questions, however, over the way the unarmed Fayaz was abducted and killed.
"I do not think it was a right decision to kill an army officer, who was unarmed, and had come home to attend a marriage function. He was not a combatant. He was not fighting a war, neither he had done anything which was against the people's cause," wrote a local journalist Wasim Khalid on facebook.
"He could have been counselled. This is utterly disgustful since we cannot stoop low as Indian state is. There needs to be a distinction. Our whole struggle is based on truth, justice, and on morals, which means humanity. Such acts muddy our cause and place us along with the occupier," he wrote further.
Former chief minister Omar Abdullah tweeted his anger over the killing. "Very sad and alarming. Condolences to the family. May Lt Umay Fayaz's soul rest in peace," Omar wrote.
Some netizens, however, urged that people should not jump the gun and blame militants when they have not accepted responsibility.
"Nobody has claimed his killing yet. It was disgraceful as well when Amir Wagay was dragged from SMHS (hospital) in unconscious condition. Let's not be judges, wait some time," wrote one Adil Mir, referring to the arrest of a Hizbul Mujahideen militant commander in March from SMHS hospital, Srinagar when he was reportedly there for a treatment.
Read more: 'Ummer wasn't scared; was a big fan of Virat Kohli': Friend remembers Kashmiri army officer killed by militants
There were also some who cast aspersions on Indian agencies to "malign" the "freedom movement". "Who knew the officer was off beat, attending a marriage ceremony? Rebels usually don't turn merry to mourn. The occupier has umpteen times in the past tried to give grey colour to our movement. Let's hope, truth unfolds as soon as possible," wrote one Mohammad Umar.
Some social media users also argued that a soldier is never out of uniform.
Close Story