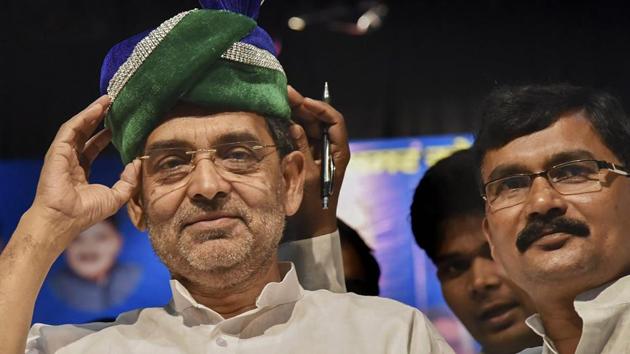 'Deeply hurt' by Nitish Kumar's comment, Upendra Kushwaha wants BJP president Amit Shah's intervention for resolving JD(U)-RLSP tiff
On Saturday, Bihar CM Nitish Kumar had responded curtly to a question from reporters in Patna on RSLP chief and Upendra Kushwaha's claim that the chief minister did not want to continue beyond 2020, saying that the level of debate should not stoop so low.
UPDATED ON NOV 07, 2018 09:16 AM IST
Unfazed by Janata Dal (United) reprimand for his DNA jibe, Union minister Upendra Kushwaha on Tuesday said he was "deeply hurt" by Bihar chief minister Nitish Kumar's reported "neech" remark.
Kushwaha, who also heads the Rashtriya Lok Samata Party (RLSP) said he would not relent on the issue unless Bharatiya Janata Party (BJP) chief Amit Shah intervened to clear the ambiguity surrounding the issue.
The RLSP, Nitish Kumar-led JD(U) and the BJP are partners in the National Democratic Alliance (NDA).
Upping the ante in the ongoing spat between the two alliance partners, Kushwaha said, "I am writing to Amit Shah ji to look into the issue and, as the biggest alliance partner of the NDA, immediately convene a meeting for a clarity on the 'context or content' of the Bihar CM's remark."
On Saturday, Kumar had responded curtly to a question from reporters in Patna on Kushwaha's claim that the chief minister did not want to continue beyond 2020, saying "Baatchit ka star itna neeche mat giraeeye (don't allow the level of debate to stoop so low)."
It prompted the RLSP chief to follow it up on Sunday seeking the status on the DNA report of the JD(U) chief, first raked by Prime Minister Narendra Modi during a BJP election rally at Muzaffarpur in July 2015, bringing the two parties face-to-face.
"I am deeply perturbed. The 'neech' remark is propping up before me all the time. How can somebody talk like this in politics? This is totally unacceptable," Kuashwaha said, while reiterating that Kumar had shared his unwillingness to continue as CM on more than one occasion.
The Union minister said he was ready to retire from politics if Kumar publicly denied his claim. He also said he was willing to bury the hatchet with Kumar, whom he had termed as 'bade bahi (elder brother)' in Gaya on Wednesday last, if he convinced him that the 'neech' remark was not directed at him.
"I will accept it, even if it is done in a closed door. The pain will ease," he said, stating his position.
On being prodded whether the bitterness had anything to do with the developments surrounding seat-sharing formula, announced at the joint press conference of BJP and JD (U) in Delhi, Kushwaha said, "We want the exercise should be done taking into account the growth in our base. As for the issue of sharing loss (for accommodating the new ally), it does not gel with the selective denial in the distribution of rewards (in terms of ministerial berth in Bihar)."
Whether things would change once the party gets accommodated in proposed cabinet expansion by the chief minister, the RLSP chief said he was not interested in getting representation for the party now. "Had it been then (July 2017) it would have been different. Now, we are absolutely not interested in settling with leftovers," Kushwaha said.
Kushwaha, on his part, ruled out that the NDA was hurtling towards disintegration owing to ongoing tiff. "I am not going anywhere. Unlike some forces in state BJP and JD (U), who are trying to foil the Prime Minister's chances for another term, I am doing whatever possible to have him re-elected in country's interest."
The RLSP chief, who has been critical of his alliance government on the status of educational standard and law and order situation in the state, said it was the "same set of leaders" who were poisoning the ears of BJP high command against him.
Close