Despite soaring spirits, frenzy of December 1992 has waned in Ayodhya
Nov 25, 2018 07:23 AM IST
Given the limited scale of the Vishwa Hindu Parishad (VHP) Dharma Sabha to whip up support for building a Ram temple in Ayodhya, the frenzy seen among kar sevaks in October-November 1990 and in December 1992 is missing this time around
As Shiv Sena volunteers marched from one temple to another on Saturday amid chants of 'Jai Shri Ram', many residents of Ayodhya were reminded of the volatility in the temple town before the demolition of the Babri Masjid on December 6, 1992 .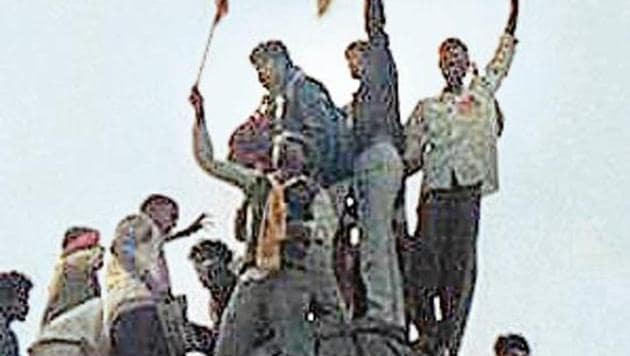 However, given the limited scale of the Vishwa Hindu Parishad (VHP) Dharma Sabha to whip up support for building a Ram temple in Ayodhya, the frenzy seen among kar sevaks in October-November 1990 and in December 1992 is missing this time around. Unlike 1992, when top BJP leaders like L K Advani, Uma Bharti and Murli Manohar Joshi anchored the massive build-up through 'Rath Yatra' and various events over two years covering states like Gujarat, Maharashtra, Andhra Pradesh, MP, Bihar and UP, the VHP has limited its Dharma Sabha campaign to Ayodhya and adjoining districts. Many believe the Rashtriya Swayansewak Sangh and VHP may intensify the campaign in coming months.
Over the years, the residents here have stayed away from the Ram temple movement.
A local resident, Mohammad Ashraf, said: "We see tension only when outsiders come here. Muslims are contributing a lot to the local economy. We are not opposed to the temple. Muslim women residing in areas around the disputed Ram Janmabhoomi-Babri Masjid complex make garlands for local temples. Muslim men make 'khadaun' (footwear) for seers. Both Hindus and Muslims live peacefully."
Sanjay Raundal, who reached Ayodhya from Nashik to take part in the Shiv Sena's "Ashirwaad Utsav" here, said, "I remember December 1992. I was on way to Ayodhya when police stopped me on the borders of Maharashtra. Many kar sevaks had reached Ayodhya to demolish the Masjid. The situation in Ayodhya has changed now." Other people also travelled down memory lane to compare the situation in Ayodhya in 1990-1992 and now. "Curfew was clamped in Ayodhya when then chief minister Mulayam Singh Yadav ordered firing on kar sevaks in 1990. Later, it all happened within minutes and the disputed structure was demolished. 'Shiladaan' was organised in 2003 but nothing more happened all these years. The general condition here has improved to some extent due to rising footfalls," said Ram Krishna Gupta, a shopkeeper outside Hanuman Garhi temple.
"We hope an ordinance is issued to build the temple now," he added.
Ayodhya has been renamed and elevated to a district and division. A notification to rename Faizabad district and division as Ayodhya was issued on Friday to give a message of change to seers and local people.