US diplomat Nikki Haley eyes role in India-Pak parleys; New Delhi dismissive
Indian foreign ministry spokesperson Gopal Baglay said New Delhi's position on bilaterally resolving all issues with Pakistan hasn't changed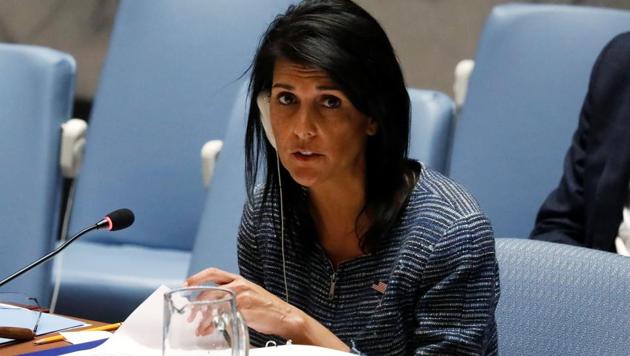 Updated on Apr 06, 2017 08:36 AM IST
Hindustan Times, Washington/New Delhi |
Yashwant Raj and Jayanth Jacob
US ambassador to the UN Nikki Haley appeared to be signalling a shift in American position when she said the Donald Trump administration would like to "find its place" in efforts to de-escalate India-Pakistan tensions but the suggestion was rejected by New Delhi, which insisted on the bilateral resolution of issues.
In remarks at a news conference on Monday, Haley, who has taken over as the UN Security Council chair, said the US was concerned about the India-Pakistan dispute and would like to "find its place" in moves to reduce tensions.
"It's absolutely right that this administration is concerned about the relationship between India and Pakistan and very much wants to see how we de-escalate any sort of conflict going forward," the Indian American envoy said in response to a question.
"So I would expect that the administration is in going to be in talks and try and find its place to be a part of that and we don't think we should wait till something happens. We very much think that we should be proactive in the way that we are seeing tensions rise and conflicts start to bubble up and so we want to see if we can be a part of that."
But the day after, no one in the Trump administration was in a hurry to back her up publicly or privately. The White House referred questions about her remarks to the state department, which had not responded to multiple requests for response till the writing of this report.
In New Delhi, external affairs ministry spokesperson Gopal Baglay responded to Haley's remarks by saying India's position on bilaterally resolving all issues with Pakistan hasn't changed.
"Government's position for bilateral redressal of all India-Pakistan issues in an environment free of terror and violence hasn't changed," Baglay said.
The external affairs ministry was cold to Haley's remarks indicating that President Donald Trump could play a role in efforts to reduce tensions. Instead, Baglay said, the focus should be on terror originating from Pakistan.
"We of course expect the international community and organisations to enforce international mechanisms and mandates concerning terrorism emanating from Pakistan, which continues to be the single biggest threat to peace and stability in our region and beyond," he said.
Pakistan has often favoured a mediatory role for the US on the Kashmir issue but New Delhi has consistently ruled out third party mediation to solve its problems with Islamabad.
Also read: As China continues to block UN ban on Azhar, US says veto won't stop it from acting against terrorists
India, normally super-sensitive to any talk of third party intervention, seemed not too worried, opting to continue believing in an earlier assurance from the Trump administration that the president "was not interested".
The Trump administration has let India know, according to officials in New Delhi who spoke on condition of anonymity, that the president has no intention of insinuating himself or the US into the conflict as a mediator or a peacemaker.
India first raised this issue with the administration in January after Trump, then president-elect, was seen to be signalling a desire to play a role in resolving India-Pakistan issues during a phone call with Pakistan Prime Minister Nawaz Sharif.
"I am ready and willing to play any role that you want me to play to address and find solutions to the outstanding problems," Trump had said, according to a transcript released by Islamabad. "It will be an honor and I will personally do it."
New Delhi, which had been engaging the new administration in a series of meetings, was alarmed and checked. "We were told by those close to the administration the president was not interested," said an official on background.
Indians have since then let the Trump administration know at other levels and in other meetings about their position on third party mediation. And they have had no reason to re-visit the issue until now.
Close Story