Drug addict beheaded boy, ate his flesh after failed molestation bid, say police
Hindustan Times, Bareilly |
Chandan Kumar
Feb 23, 2017 10:16 PM IST
Nizam, who is in his early 20s, surrendered to police after beheading the seven-year-old boy and eating his flesh.
The drug addict who beheaded a seven-year-old boy and ate his flesh in Pilibhit recently, committed the crime after failing to sexually abuse the victim, police said on Thursday.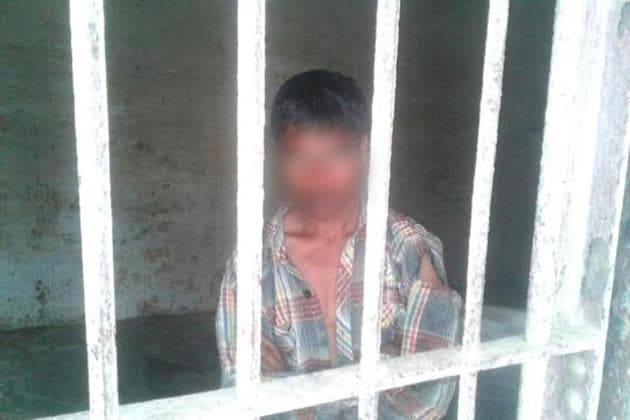 The deceased boy, Mohammad Monis, was reportedly playing outside his house with other children in Amariya area on Tuesday afternoon when the accused, Nazim Miyan, lured him into the house of a relative and committed the crime, officials said.
Nizam, who is in his early 20s, used to live in the same locality with his family. He surrendered to police after the crime.
"He (Nazim) was sitting beside the body of my child…he had blood on his hands and face. He is a monster… who else will have the heart to kill an innocent child and eat his flesh," said Mohd Naeem Qureshi, the victim's father.
Monis was the youngest of Naeem's eight children.
"Nazim promised to give him Chinese dates. Monis was very fond of them, so he followed him," said Naeem.
Pilibhit superintendent of police Devranjan Verma said, "He apparently tried to molest the boy before killing him and disfiguring his body."
Police slapped charges of unnatural offences, murder and other sections of the Indian Penal Code and under POCSO (Protection of Children from Sexual Offences Act) in the FIR against Nazim.
The FIR was filed based on a complaint lodged by Naeem.
After killing the boy, Nazim allegedly consumed some flesh from the body. "Nazim had blood on his face and it seems he ate the flesh of the child," said the police officer.
Neighbours said that despite being a drug addict, he was soft spoken and a friendly person.
"He (Nazim) used to greet everyone and was soft spoken. I never saw him creating a ruckus or disrespecting anyone," said Md Mobeen Raza, a resident of the same locality.
"Nazim has no criminal record. But he appeared calm like a hardened criminal when we arrested him," said the SP.
Nazim was sent to judicial custody on Wednesday. He confessed to his crime but investigators are trying to take him on remand for further interrogation.
"We are trying to find out if Nazim molested other children of the locality," the SP added.
Meanwhile, residents of the area took out a rally demanding death sentence for Nazim. They also submitted an application to the district administration in this regard.