Earthquake of magnitude 6.4 shakes Assam, CM Sonowal asks citizens to remain alert
Updated on Apr 28, 2021 11:18 AM IST
Two aftershocks, one measuring 4.3 on the Richter scale took place at 7:58 am with its epicentre 30 km away from Assam's Tezpur town and the second measuring 4.4 on the Richter scale at 8:01 am, 39 km from Tezpur.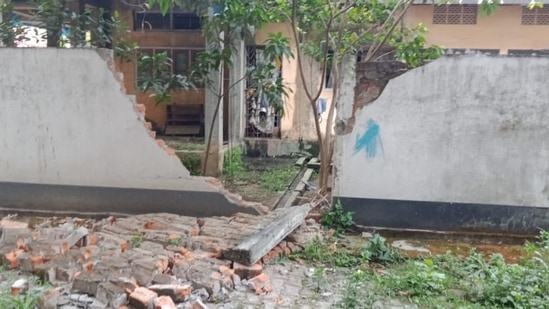 An earthquake of magnitude 6.4 on the Richter scale shook large parts of lower Assam on Wednesday morning. According to initial reports, buildings in Guwahati and other areas were damaged, however, there were no immediate reports of any casualties.
The National Centre for Seismology said the quake, with its epicentre in the state's Sonitpur district, struck at 7.51am. Two aftershocks, one measuring 4.3 on the Richter scale struck at 7.58 am with its epicentre 30km from Tezpur town, while the second one, measuring 4.4 on Richter scale occurred 8.01am some 39km from Tezpur.
Chief minister Sarbananda Sonowal asked citizens to remain alert. "Big earthquake hits Assam. I pray for the well-being of all and urge everyone to stay alert. Taking updates from all districts," he said in a tweet.
Pictures and videos from the northeastern state surfaced on social media in which cracks on roads could be seen in the aftermath of the earthquake. In one of the videos, a building in Nagaon, a district close to Sonitpur where tremors were felt, could be seen tilted and leaning against its adjacent building.
Prime Minister Narendra Modi spoke to Sonowal and took stock of the damage and has promised all possible assistance. "Spoke to Assam CM Shri @sarbanandsonwal Ji regarding the earthquake in parts of the state. Assured all possible help from the Centre. I pray for the well-being of the people of Assam," PM Modi wrote on Twitter.
Union home minister Amit Shah also enquired about the situation and wished for the well-being of the people in the area. "Have spoken to the Chief Minister of Assam, Shri @sarbanandsonwal ji, to assess the condition in different parts of the state after an earthquake. The central government stands firmly with our sisters and brothers of Assam. Praying for everyone's safety and well-being," he tweeted.
"Just experienced a massive earthquake in Assam. Waiting for details," Assam's health minister Himanta Biswa Sarma tweeted soon after tremors were felt.