Two 'rich, educated women' among beggars shifted to rehab ahead of Ivanka's Hyderabad visit: Cops
Nearly 1,000 beggars have been shifted to the ashrams for Ivanka's three-day visit to Hyderabad for a high-profile entrepreneurship conference.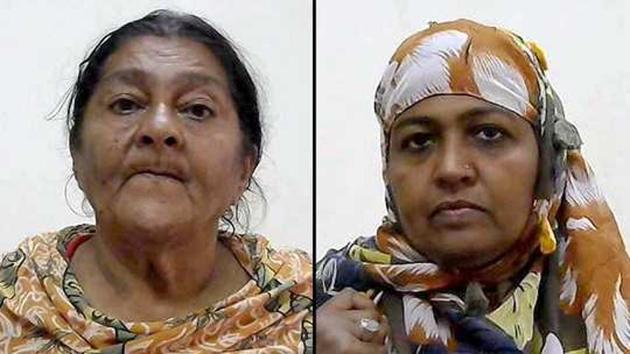 Updated on Nov 21, 2017 11:36 PM IST
Educated and owners of posh apartments--that usually can't be said about beggars. But the Hyderabad Police found two such women as they were sending beggars to rehabilitation homes.
The police are preparing for the visit of Ivanka Trump, the daughter of US president Donald Trump, and found the stories of the two women who were arguing in English with authorities at a rehabilitation home.
Several women beggars from a dargah or shrine for a Muslim religious figure at Langar Houz on the outskirts of Hyderabad were brought to Ananda Ashram at Cherlapalli jail on November 11 after the police declared begging as an offence and banned people from seeking alms on the city's streets for two months.
Nearly 1,000 beggars have been shifted to the ashrams for Ivanka's three-day visit to Hyderabad for a high-profile entrepreneurship conference.
"We have brought 133 women beggars to Ananda Ashram at Cherlapalli jail. And all the male beggars have been shifted to a similar ashram at Chanchalguda jail," ashram in-charge and Cherlapalli open jail superintendent K Arjun Rao told Hindustan Times.
"When we started enquiring about their background, we found two of them a little peculiar. They were arguing with our staff in fluent English and did not appear like beggars. Upon enquiry, we were shocked to know that they were, in fact, very rich and educated," Rao said.
Fifty-year-old Farzona claimed she holds a post-graduate degree in business administration and had worked as an accountant in London before returning to India a couple of years ago. Her son is an architect in the United States.
"She has her own apartment at Anandbagh in posh Ameerpet area in the city. She was apparently mentally disturbed after the death of her husband some time ago. Following a suggestion from a godman, she took to begging at the dargah, which is known for providing shelter for psychologically disturbed people," Rao said.
The ashram authorities contacted her son based on the information provided by her. He was already in Hyderabad and was looking for his mother, they said.
"She was hell-bent on continuing begging at the dargah. We took an affidavit from her son and handed her over to him on the same evening," the jail superintendent said.
However, Farzona changed her version when HT met her at the dargah on Tuesday.
"I have been staying here for the last 10 years to spend my life peacefully. I am not a beggar, but the police mistook me as a beggar and shifted me to Cherlapalli ashram. I argued with the police and the jail authorities. I called up my son and asked me to take me back to dargah," she said.
Another woman, Rabiya Baseera, from Defence Colony at Langar Houz also fought with the jail authorities for bringing her to the rehab centre.
"She claimed that she was a green card holder in the USA and had huge properties in Hyderabad. However, her brothers had allegedly usurped her properties," the jail official said.
"She lost her mental peace fighting to get back her wealth and following an advice from some of her relatives, she came to the dargah and was begging to get the mental peace," he added.
The 44-year-old Baseera stayed in the ashram for a day before she was handed over to her relatives by the authorities.
Close Story