Fake firm opened 2,000 bank accounts to transact Rs 4,000 crore: Sitharaman
Press Trust of India, Chennai |
Press Trust of India
Nov 08, 2017 07:42 PM IST
A fake company used the December 30, 2016 deadline to ask people to deposit old Rs 1,000 and Rs 500 notes in bank accounts, to convert black money to white, said minister Nirmala Sitharaman.
The government has unearthed cash transaction of up to Rs 4,000 crore by a fake company which had more than 2,000 bank accounts, Union minister Nirmala Sitharaman said in Chennai on Wednesday.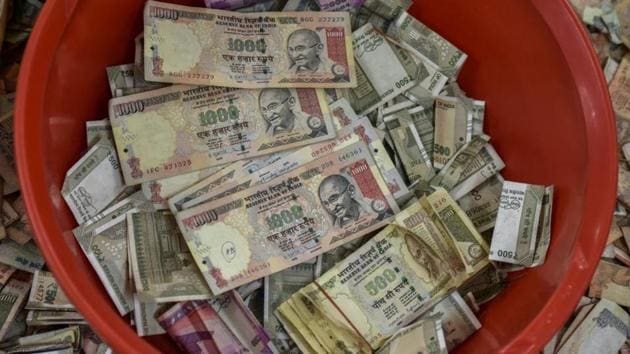 "We have spoken in public about operation of fake shell companies. One such fake company had about 2,000 bank accounts," she said.
The company did not disclose any detail of how it generated income. But it came to light that the company had 2,000 bank accounts, she said.
The minister said the company used the government's December 30, 2016 deadline asking people to deposit old Rs 1,000 and Rs 500 notes in bank accounts, to convert black money to white.
"This incident has been unearthed. Now the company has been shut", she said.
Sitharaman sought to know from the opposition whether this would have come to light if demonetisation was not implemented.
"If note ban was not implemented do you think this (incident) would have come out? There are people who just wanted to make unnecessary argument", she said.
Noting that the BJP government decided to include unearthing of black money in its 2014 poll manifesto, she said that "despite his old age (BJP leader LK) Advani took up countrywide yatra against black money".
She pointed out that the UPA government had not even formed a SIT (Special Investigating Team) from 2011 despite a direction from the Supreme Court.
It was the Narendra Modi government which did it after assuming office. "We have been taking steps against black money stages by stages.", she said.
The SIT, headed by former Supreme Court judge MB Shah,is responsible for investigating cases of black money stashed abroad through coordination of various members from Reserve Bank of India, Intelligence Bureau, Enforcement Directorate , the Central Bureau of Investigation,the Financial Intelligence Unit, the Research and Analysis Wing (RAW) and DRI.
On criticism that the note ban caused hardship to people, she said the Centre had given an opportunity to those with unaccounted cash or assets to declare it on or before September 30, 2016.
"You were given a chance to declare unaccountable cash or assets if you had.A deadline was also given to them (those who had unaccounted cash to deposit) before September 30, 2016. After withdrawal of Rs 500, Rs 1000 notes only incidents of such fake companies came out", she said.
"They (critics) ask what you have achieved by implementing demonetisation. What do incidents like these mean?", she asked.
Sitharaman rued that citizens paying tax regularly did not question the government for lack of services, despite having the power to do so.
"We do not have the boldness to question the government if there is deficiency in services like not laying proper roads or not providing water supply despite regularly paying taxes", she said.
Stating that "terror funding" has come down, largely due to the note ban, she said some forces in the Kashmir valley used to fund young women to take part in protests and pelt stones
"They have been doing this kind of thing based on support by a country which is against us. Now with implementation of demonetisation this has been removed", she said.
Similar was the case with Maoists, she said.
She said Maoists "have been threatening road contractors for some commission (in Maoist-hit areas). They claim they are at war against India. But today they are also facing difficulties due to demonetisation", she said.
The minister was here to take part in a conference, observing the first anniversary of demonetisation as 'anti black money day', organised by the BJP traders wing.