Kashmir jeep row: FIR against Major Gogoi not quashed, probe will continue
Updated on May 26, 2017 07:18 AM IST
The Kashmir Police has not quashed an FIR an against an army officer who allegedly tied a man to a jeep to neutralise stone pelters in central Kashmir's Budgam district on April 9.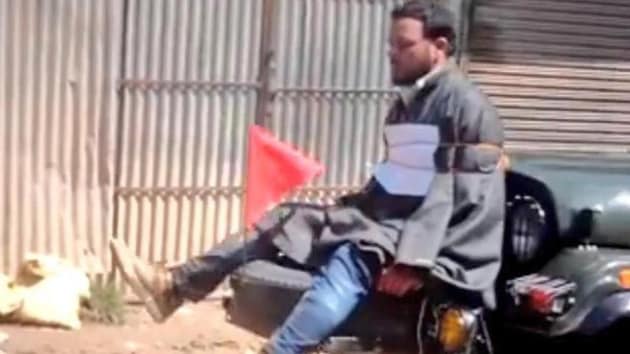 The police probe into an army major using a Kashmiri man as a human shield will continue, a senior official said on Tuesday, even as rights body Amnesty accused the Indian armed forces of glorifying the "degrading treatment" by awarding the officer.
Major Leetul Gogoi was accused of rights abuse by activists after he tied Farooq Ahmad Dar to the front of an army jeep on April 9 and paraded the man through several villages.
The army chief awarded the officer for "sustained efforts" in counter-insurgency operations on Monday. On Tuesday, Gogoi defended his act in his first public comments since the incident which sparked outrage in Kashmir.
Muneer Khan, Kashmir range inspector general of police, said the first information report (FIR) in the case has not been quashed and the army honouring the major will not impact the probe.
"The investigations will continue...We will share the results of that investigation at the end," Khan said in Sopore.
Though the army said the officer was not rewarded for the incident, many in Kashmir believe that the honour was akin to condoning the action.
A defiant Gogoi said he was forced to act as stones rained down from all sides, accusing Dar of being the "ringleader" who stirred up the protesters.
Dar, who works as a weaver, has repeatedly said he had no involvement in anti-government protests and does not know why he was singled out.
Amnesty International condemned the army award to Gogoi.
"Rewarding an officer who is under investigation for a human rights violation suggests that the army seems to be willing to not just overlook, but actually valourise an act of cruel, inhuman and degrading treatment amounting to torture," Aakar Patel, executive director of Amnesty International India, said in a statement.
"This decision sends the disturbing message to security force personnel and people in Jammu and Kashmir that the human rights of Kashmiris can be casually ignored without fear of punishment."
(With agency inputs)