PM Narendra Modi reaches Myanmar: Five reasons why his visit is important
Sep 05, 2017 06:28 PM IST
Prime Minster Narendra Modi, on his way back from the Brics Summit in China, will spend two days in Myanmar, his first bilateral visit to the neighbouring country.
Prime Minister Narendra Modi arrived at Naypyidaw on Tuesday for a two-day trip to Myanmar, his first bilateral visit to the only Southeast Asian country India shares land boundary with.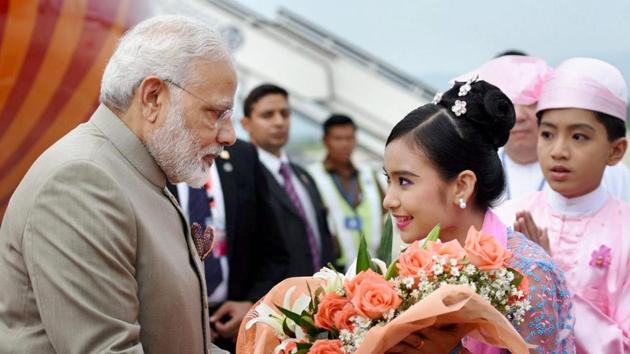 The trip comes at time when Myanmar is facing intense scrutiny over latest round of violence against roughly 1.1 million Rohingya Muslims.
Myanmar opened up to the world after an oppressive junta in 2011 gradually made way for a civilian government but India has not particularly hit it off with the neighbour, which has warmed up to China.
Myanmar is India's gateway to the East and it was in capital Naypyidaw that Modi launched Act East policy in 2014 but a lot remains to be done.
1. Making up for lost time
India has struggled to read the domestic churn in Myanmar. In the first decade of this century, New Delhi was close to the generals running the country, leaving Nobel peace prize winner Aung San Suu Kyi, who came to symbolise the country's struggle against the oppressive military rulers, miffed.
Though Suu Kyi went to college in Delhi, India failed to build on that goodwill when her party came to power in 2016, allowing China to make inroads. The de facto leader of her country, Suu Kyi chose Beijing as the first major capital for her visit abroad ahead of New Delhi.
India has a lot of catching up to do with the country that could prove strategically important as China steps up activity in the Indian Ocean.
The bilateral trade is valued at just $2 billion. India is seventh biggest importer to Myanmar and its third biggest export destination but trade and economic ties haven't picked up in recent times, a field that has a lot of potential.
2. The China factor
Ties between China and Myanmar have strengthened after Suu Kyi's National League for Democracy party swept to power. Robust economic and business ties apart, China continues to provide diplomatic fig leaf to Myanmar at a time when most Western nations are piling pressure on the government, Suu Kyi and military over the violence and exodus of Rohingya Muslims.
Moreover, China is vital to the peace negotiations as it mediates between armed ethnic groups and the government.
3. Rohingya Muslims
The Rakhine state in Myanmar's northwest is politically sensitive and is also important to both India and China.
It is the starting point of the much-delayed $484-million Kaladan multi-modal transport projects that aim to connect Myanmar to India.
India has already completed work on Sittwe port, at the estuary of Kaladan river, in Rakhine.
Similarly, the troubled state is also the spot from where the Myanmar end of the oil and gas pipeline with China will open.
Beijing and New Delhi have their reasons for the state to be peaceful. A road and rail network across northern Myanmar to the Bay of Bengal will allow Beijing to increase trade with West Asia without taking the contentious South China Sea route.
Exodus of Rohingya Muslims – about 90,000 of them have fled in the last few days alone – poses a problem to both Bangladesh and India.
4. Security cooperation
Along with a maritime border, Myanmar shares 1,643-km land boundary with India's four northeastern states. Several insurgent groups have set up bases and training camps in Myanmar, a constant headache for India. The two countries have been increasingly working together but more needs to be done to address India's security concerns.
5. Act East
In geographical terms, Myanmar is the first stop for India's Act East policy.
The two countries are also members of various regional groupings such as the Bay of Bengal Initiative for Multi-Sectoral Technical and Economic Cooperation (Bimstec) and Asean (Association of Southeast Asian Nations).
At the 2016 summit in Goa, Bimstec stressed the need for strengthening transit agreements and early conclusion of a free trade agreement. Myanmar also remains an important country for various regional connectivity plans.