Flash flood affects 40,000 in Assam, Manipur counts losses
Updated on Sep 10, 2017 04:42 PM IST
The fear of another bout of floods has been looming large with Assam and other north-eastern states experiencing heavy rainfall in the last 24 hours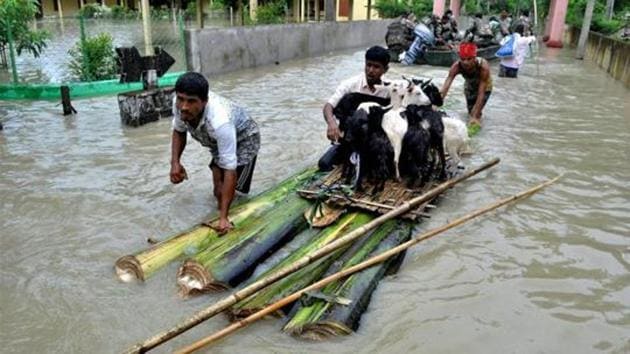 Hindustan Times, Guwahati/Imphal |
Utpal Parashar & Sobhapati Samom
Flash flood struck north-central Assam in the wee hours of Sunday, less than a fortnight after the state began recovering from the second wave of deluge that claimed more than 150 human lives.
Officials in Sonitpur district said flash floods affected some 40,000 people while one person who was washed away reportedly drowned.
"The water level of river Jorakhar, which originates in Arunachal Pradesh, started rising suddenly about 3am. Several areas in Balipara town and parts of a highway was under waist-deep water," Surjya Kama Borah, circle officer of Chariduar, said.
Nearly three dozen villages in Chariduar circle were inundated too, forcing thousands to flee their homes.
Since there wasn't heavy rainfall in the area officials attributed the flash floods to possible landslides or damage to sluice gates in neighbouring Arunachal Pradesh.
The area had witnessed similar flooding in June this year following few hours of heavy rainfall and rise in water levels of Mansiri and Jorakhar rivers.
The fear of another bout of floods has been looming large with Assam and other north-eastern states experiencing heavy rainfall in the last 24 hours. The rain in Manipur has been of lesser intensity, but officials there have begun assessing the losses of the floods in August.
Disaster management officials in Imphal said this year's flood has pegged the state back by Rs 358.23-crore with 25 people having died and 78,677 hectares of agricultural land damaged.
Among the affected farmers is LS Ngaonii, 65, of Sorbung village in Manipur's Senapati district. "These parts never witnessed nature's fury of such intensity in 30-40 years," said the farmer who produces 8,250kg of rice in favourable climatic conditions.
Sorbung, 90 km north of Imphal, had experienced heavy rainfall and mudslide on August 30.
Such has been the extent of damage that, villagers feel, it will take three-four years to rejuvenate the farmlands unless the government provides help.
Officials of the Manipur directorate of environment attributed the unusually high average rainfall to climate change. The state received 1,668.5 mm of rainfall from February-August, considerably higher than the average annual mark of 1,500mm.
Chief Minister N Biren said the state's hills in particularly have suffered from deforestation besides conditions influenced by climate change.
Personalise your news feed. Follow trending topics