For children, a world away from Maoist guns
Jalindra Lohra is 11 but unlike most boys his age, he spends most of his time poring over books, reciting English letters he started recognising barely a month ago.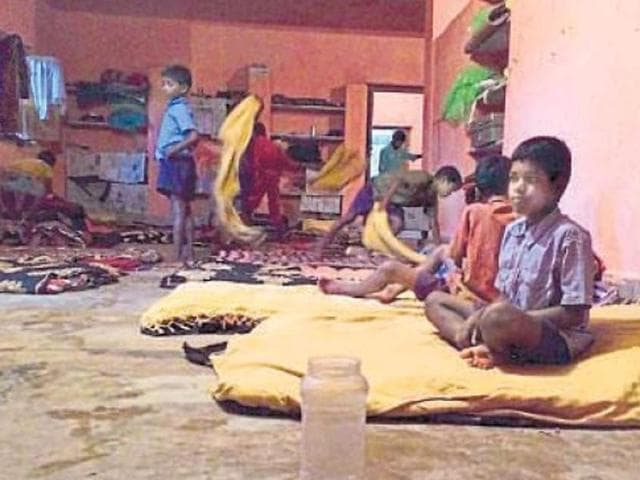 Updated on Sep 03, 2016 11:46 AM IST
Hinndustan Times |
, Gumla
B Vijay Murty
Jalindra Lohra is 11 but unlike most boys his age, he spends most of his time poring over books, reciting English letters he started recognising barely a month ago.
He is a resident of Jamti — a village in Jharkhand's Maoist violence-affected Gumla district — and was rescued by police and put into a new residential primary school for the tribes.
Lohra shivers when he recalls the time Maoists forcibly took his younger sister Dumitri for recruitment in their armed squad.
The primary school building has leaking roofs and poor basic amenities such as proper beds, tables and chairs, and electricity supply is sporadic.
But for the soft-spoken boy — deemed as "vulnerable to extremist recruitment" — it is a far better place to live than his village.
He is one of hundreds of children who are snatched from their parents by Maoists, only to be abandoned later under pressure from police or security forces.
A first-of-its-kind government survey earlier this year found that Maoists took away at least 35 children from as many villages in Latehar, Lohardaga and Gumla districts last winter. Many of these children were either freed or escaped.
Not convinced of their safety in the villages, police evacuated at least 100 such children from their homes and put them in two specially created boarding schools in Gumla. Girls were sent to the already existing Kasturba Gandhi Vidyalayas.
Though away from their homes and parents, the children, between five and 15, seem happy exploring a world away from the shadow of the rebels' guns. Parents are also happy to see their children in a secure environment.
"The jungle party (Maoists) would often come and hold meetings with elders, demanding children for their armed squads. On denial, they would thrash our parents," says Vikash Toppo, 14.
He recalls how his uncle was tied to a tree and thrashed with rifle butts as others watched helplessly.
Police have shifted his four siblings out of the village and into residential schools. Toppo wants to become a police officer and eliminate insurgents.
Rajpal Oraon, 13, also wants to study hard and become a police officer. Back home, he says, he saw teenagers migrating to other states for work or moving into the Maoist camps.
"I want to study and don the khaki uniform," he said.
School principal Santosh Kumar says at first, the children's confidence was low as they were shaken by Maoists' high handedness. "They could hardly read or write, let alone coping with the curriculum. Within a month, they have shown tremendous signs of improvement and let me tell you, some of them are very sharp," he said.
"We wish to shift more children from the insurgency affected villages but for that we need more residential schools," says director general of police, DK Pandey. He says even though the Maoists are constantly on the run after forces punctured all their bastions, security and education of the children remained a concern for the government.
"The government has sanctioned two hostels, one each for boys and girls, at Banalat and Jamti so that the children remain close to their parents and in a protected environment," the DGP stresses.
At least 21 of the 24 districts in Jharkhand are affected by Left wing extremism.
There are at least seven recognised Left wing extremist groups — Maoists are the biggest of them all — that allegedly abuse and violate the rights of children.
A group in Gumla's Bishunpur block led by Ramdeo Oraon has allegedly raped and brutally killed girls and boys before burying their bodies.
Families have left the villages he dominates and the schools' attendance is low.
People in a few other villages do not send their children to school and facilitate their migration. Poverty and the fear of being recruited or sexually exploited are the major reasons behind the migration.
According to a survey conducted by NGO Tomorrow's Foundation, 77,493 children, more than half of whom are of school-going age, migrate with their parents from Jharkhand every year.
Education in the rebel-controlled areas is in shambles as teachers find the extremist menace an excuse to not attend to their duties. Some government teachers posted in the 'troubled villages' have found an easy way to skip their duties by hiring educated, unemployed local youngsters for as less as Rs 2000-Rs 4000 a month to work on behalf of them.
To check the proxies, chief minister Raghubar Das on August 30 directed district superintendents of education (DSEs) to ask schools to install Aadhaar card pictures of teachers in classrooms for students to recognise the original ones.
Teachers have also alleged the Maoists went to schools asking for children for recruitment.
The state general of human rights organisation People's Union for Civil Liberties, Shashi Bhushan Pathak, declined to comment on the forcible recruitment of children by the Maoists.
But he said, "Women and children are treated better in the Maoist camps. Political knowledge of children with them is far superior to those attending the government schools."
Close Story