Five civilians killed, 31 injured in fresh firing in Kashmir; toll reaches 65
Aug 17, 2016 12:12 AM IST
Four civilians were killed and 15 others injured on Tuesday as security forces opened fire on protesters in Kashmir's Budgam district.
Five civilians were killed and at least 31 were injured in Kashmir on Tuesday when security forces opened fire to quell stone-pelting protesters, raising the death toll to 65 in the latest wave of violence in the troubled Valley.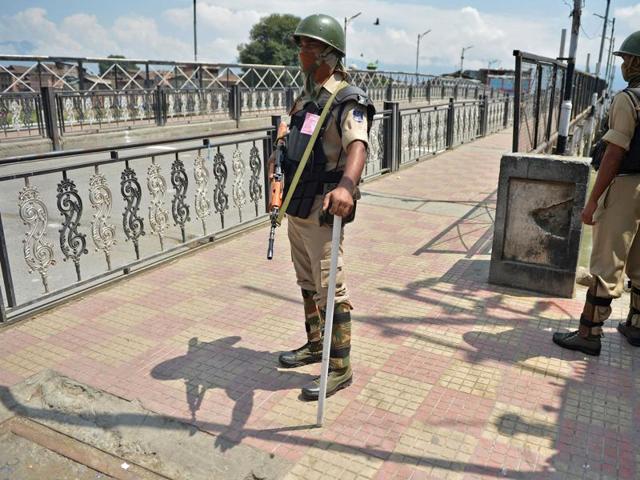 The condition of two among the injured, shot in the head, is critical, officials said in Srinagar.
The casualties came a day after militants gunned down a CRPF officer and injured nine other security personnel in downtown Srinagar, which is under lockdown since violent street protests erupted after the killing of a militant commander last month.
The worst violence since 2010 — when the Valley was rocked by similar protests leaving scores dead and injured — has sparked a verbal spat between India and Pakistan, both blaming each other for the flare-up.
In Delhi, home minister Rajnath Singh chaired a review meeting attended by top officials, including national security adviser Ajit Doval, Union home secretary Rajiv Mehrishi and chiefs of intelligence agencies, official sources said.
Police said four people were killed in Budgam district where 15 others were also injured in firing by central forces. One more civilian was killed in Anantnag district in south Kashmir, the epicentre of the protests.
Fazil Kochak, the chief medical officer of Anantnag, said 16 more people were injured in when forces fired on protesters.
The CRPF rejected allegations of firing on unarmed civilians in Aripanthar in Budgam district."It was a situation where the CRPF men had to save their own lives or get killed at the hands of a mob. There was a threat of being lynched and the mob tried to snatch weapons," Atul Karwal, CRPF inspector general in Kashmir, told HT.
The force's spokesperson Rajesh Yadav said hundreds of people pelted stones at a CRPF vehicle after blocking the road with logs. "The company commander is badly injured. Twenty two jawans were also injured, five are critical."
Eyewitnesses, however, said the people were protesting "aggressive behaviour" of CRPF personnel during overnight raids.
Tension ran high during the last rites of the four, with hundreds of people shouting anti-India slogans.
Analysts said protests in Budgam and Monday's death of a 16-year-old boy in Srinagar show the civil unrest is no longer limited to south Kashmir. Former CM Omar Abdullah reacted sharply to the civilian deaths. "6 protestors dead in Kashmir in 24 hours but WTH let's go sort out Balochistan since we are doing such a good job in J&K at the moment!!!" he tweeted.
Read | I-Day attack: Securityman, two militants killed in Srinagar gunfight