From Bihar, with love: Jardalu mangoes for Prez Mukherjee before he demits office
Jun 03, 2017 09:22 AM IST
Bihar sends to VIPs in Delhi Jardalu, a highly prized mango. Last year, there was a break in the custom of sending Jardalu gift packs
Before he demits office next month, President Pranab Mukherjee will head a select band of VVIPs in New Delhi which will have the privilege of savouring a fine sample of delicious Jardalu mangoes that the Bhagalpur region of south eastern Bihar is known for.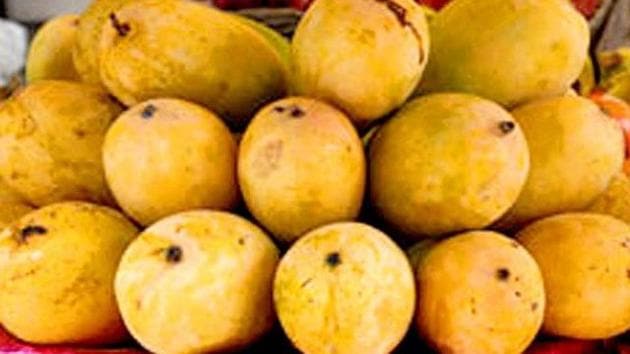 The Bhagalpur district authorities dispatched on Friday a total of 1,024 gift boxes of Jardalu mangoes for VVIPs in the national capital, as a goodwill gesture on the part of the state government that conforms to a long standing tradition.
Confirming this, deputy director, horticulture (DDH) Vijay Kumar Pandit said another 400 boxes of the prized mango variety, each bearing five kilos of the fruit, would be sent to Patna within the next two days for distribution among high dignitaries of the state.
"We had a tough time isolating the larger size mangoes for VVIP consumption as the overall size of the early fruit has been diminished owing to untimely rains leading to temperature variation that affects the size adversely", Pandit said.
As such, for separating Jardalus of right size for VVIP gifting, the authorities had to rely mainly on the fruit grown in orchards of Sultanganj area the district, which were comparatively larger in size as compared to the fruit grown elsewhere.
The DDH said even though the overall mango production in the district this year was not expected be 'bumper; as it was in 2015, it would be much better as compared to the previous year. "Our rough estimate is the total mango production in the district iwill be above 80,000 tonnes this time", Pandit said.
Last year, there was a break in the custom of sending Jardalu gift packs to VVIPs owing to a sufficient quantity of quality fruit not being available in the region.
Ashok Chowdhry, president of the Bihar mango growers' association, said out of total 100 quintals of Jardalu, 80 quintals of mango of good size and quality was selected for gift packs. "Recent rains have helped control the damage caused to the fruit by temperature fluctuation", he said.
VB Patel, associate director (research), Bihar Agriculture University (BAU), Sabour, however, said early rain, such as in the month of March this year, had caused 'mango blossom blight', a fungal disease that adversely hit flowering in mid and late varieties of jardalu.
Patel said even though growers could control the disease by chemical treatment,the adverse effect of the disease during the flowering stage was expected to reduce the size of the fruit and overall mango production in the district, by 15% to 30% .