Get to know India first before learning about world: Prakash Javadekar
Hindustan Times, New Delhi |
Smriti Kak
Aug 29, 2017 12:32 AM IST
The minister's statement echoed the view of the RSS on bringing the spotlight on ancient Indian history.
Union human resources development minister Prakash Javadekar on Monday underlined the need to discover the history of India before setting out to learn the history of the rest of the world.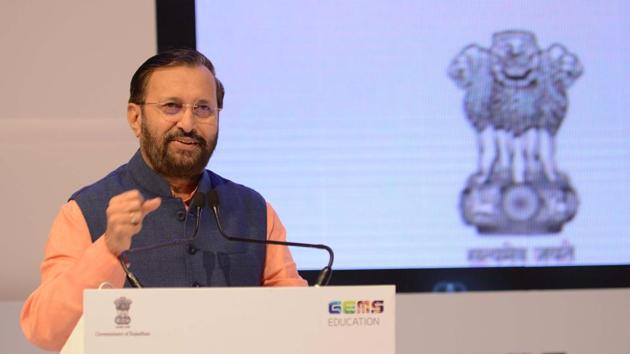 "Forgetting about India is not a prerequisite to learn about other countries…Our education system had so become that Indian history is shrinking from the textbooks," he said.
Stay tuned with breaking news on HT Channel on Facebook.
Join Now
The minister's statement, echoing the view of the RSS on bringing the spotlight on ancient Indian history was made at a lecture organised by a Sangh offshoot — Bharatiya Shikshan Mandal — and the government-run IGNOU.
The RSS and its many affiliates have repeatedly flagged the issue of Indian history being taught through a 'colonial prism' and have advocated rewriting history to bring to light India's contribution to sciences such as metallurgy .
As an example that could be "emulated", the minister cited Rajasthan, where students are first exposed to their local history and geography before moving onto events at the national and international level.
He pushed for more research into India's past to uncover achievements and contributions made in the ancient times, and said even critical analyses should be welcomed.
"We already have a course for high school students on knowledge, traditions and practices of India, where traditional fine arts, scientific achievements are made known, but efforts are underway to do more," he said.