Gorakhpur hospital tragedy: Doctor Kafeel Khan charged with attempt to murder
Nov 25, 2017 10:58 PM IST
Former doctor at Gorakhpur's BRD Medical College Kafeel Khan has also been charged with criminal conspiracy and breach of trust.
Police have charged Kafeel Khan, a former doctor at Gorakhpur's BRD Medical College, with attempt to murder over the death of 30 children at the health facility in August, an incident that triggered nationwide outrage and exposed the grim healthcare scenario in India.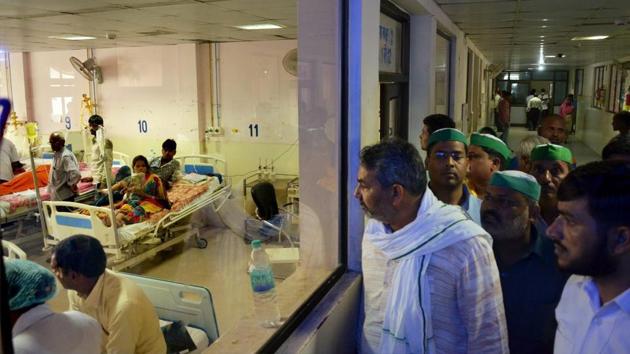 Khan, hailed as a hero immediately after the incident on August 10-11, has also been charged with criminal conspiracy and breach of trust,investigating officer Abhishek Singh told HT on Saturday.
Khan, then a nodal office of the National Rural Health Mission, was also the in-charge of the paediatric wing at the hospital when the children died, allegedly due to shortage of oxygen after a private company cut supply over a payment dispute.
The government, however, blamed the deaths on Japanese encephalitis and acute encephalitis syndrome which ravage several states during the monsoons.
Khan, and former BRD medical college principal Rajiv Mishra, were named in a second charge sheet filed by police on Friday at the sessions court in Gorakhpur, the constituency of chief minister Yogi Adityanath.
Besides the three IPC sections similar to Khan's, Mishra has also been charged under the Prevention of Corruption Act, an investigating officer told HT on Saturday.
However, police have dropped charges under the Corruption Prevention Act, IT Act and Indian Medical Council Act against Khan for lack of evidence, the official added.
All the nine accused, including Khan, are in jail.
The role of five others including the then principal KP Kushwaha, medical officer AK Srivastav and chief medical officer AR Singh -- all members of tender committee for oxygen supply -- has also been mentioned as dubious by investigating officer Abhishek Singh who filed the chargesheet.
"The role of Kushwaha and four other members of the tender committee is under scanner as the contract was not directly given to the oxygen manufacturing company but to an intermediary company," Singh said.
In the first charge sheet field in October, police had named seven persons, including hospital staff and the owner of the oxygen supplier Pushpa Sales.
Immediately after the deaths were reported, Khan was hailed as a saviour of children, Khan said he saved many lives by arranging over 250 oxygen cylinders in 24 hours. But he was under a cloud over an alleged rape case against him.