Govt busy protecting cows, not women: Jaya Bachchan in Parliament
Bachchan's remark came after Trinamool Congress MPs who raised the issue of a BJP youth leader announcing a Rs 11 lakh reward for anyone who beheads West Bengal chief minister Mamata Banerjee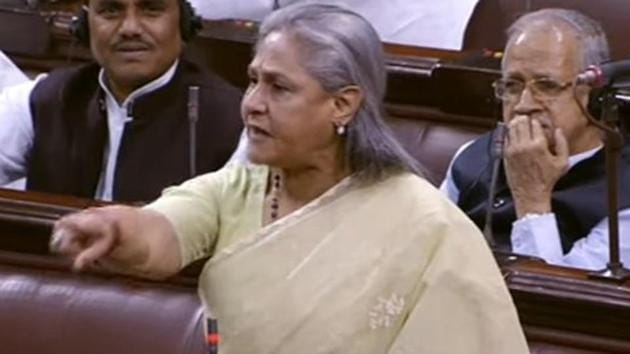 Updated on Apr 12, 2017 01:53 PM IST
The government is busy protecting cows not women, said Samajwadi Party MP Jaya Bachchan in Rajya Sabha on Wednesday.
Bachchan's remark came after protests by Trinamool Congress MPs who raised the issue of a BJP youth leader announcing a Rs 11 lakh reward for anyone who beheads West Bengal chief minister Mamata Banerjee.
"Must take steps for protection of women aggressively. You are protecting cows but atrocities being committed on women," said Bachchan.
The BJP government has come under criticism for not doing enough to rein in Hindutva groups that have been pushing noisy campaign to protect cows.
Instances of vigilantism have grown with so-called gau rakshaks accused of violence and even murder.
Earlier this month, a Muslim dairy farmer succumbed to his injuries after he was thrashed by vigilantes in Rajasthan.
Cows, considered sacred by many Hindus, came back into focus after Yogi Aditynath won a landslide victory in Uttar Pradesh in March, and launched a crackdown on illegal slaughterhouses.
Close Story
Personalise your news feed. Follow trending topics