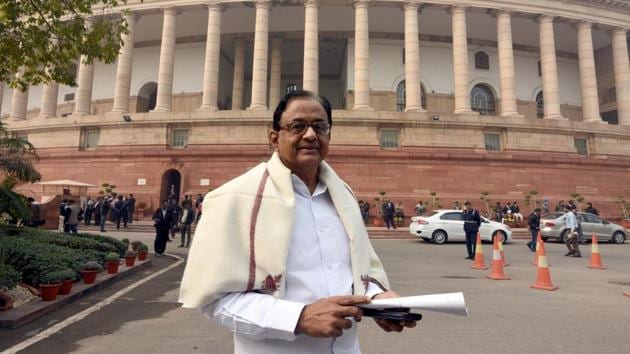 'Govt locking stable after horses have bolted': Chidambaram slams new virtual ID for Aadhaar
A day after the UIDAI introduced the concept of Virtual ID which Aadhaar holders can generate, Congress leader P Chidambaram said millions of persons have already shared their Aadhaar numbers and the new security system was meaningless.
New Delhi | By Agencies
UPDATED ON JAN 11, 2018 04:33 PM IST
The government's new measure to secure Aadhaar data was meaningless because the damage has already been done, and millions of citizens have already shared their unique ID number with service providers, Congress leader P Chidambaram said on Thursday, a day after the UIDAI introduced the concept of Virtual ID which Aadhaar card holders can generate from its website and submit for various purposes.
"Under compulsion, millions of persons have already shared Aadhaar number with many service providers. New security layer is like locking the stable after horses have bolted," the former finance minister tweeted.
The UIDAI, which collects and manages Aadhaar data including biometrics of citizens, announced on Wednesday a new two-layer system to strengthen security under which citizens would no longer be required to share their unique IDs for verification purposes.
Under the new system, at the user end, Aadhaar holders will have the choice not to share their Aadhaar numbers at the time of authentication. Instead, a random 16-digit Virtual ID number would be generated and could be used in lieu of Aadhaar with the authorised agency like banks and telecom service providers.
Meanwhile, Nandan Nilekani, the former chairman of the Unique Identification Authority of India (UIDAI), said there was an "orchestrated campaign" to malign Aadhaar.
"There is hundred per cent an orchestrated campaign to see how Aadhaar gets maligned, yes absolutely," PTI quoted Nilekani as telling a TV channel on the sidelines of an event, in response to the filing of an FIR against The Tribune newspaper over a report related to Aadhaar data breach.
Delhi Police registered the FIR on a complaint by an UIDAI official following the newspaper report on data breach of more than 1 billion Aadhaar cards.
The official told police that the newspaper correspondent, posing as a buyer, purchased a service offered by anonymous sellers over WhatsApp that provided unrestricted access to Aadhaar details.
Nilekani said the issue was blown out of proportion as Aadhaar has far too many security layers and it is not possible to randomly pore it.
He said negative views on Aadhaar will have negative reactions and hence, it would be better for people to have a constructive view on it.
"If you are just taking a negative view, and not a constructive view, then you also have other (negative) reactions. I think, everybody has to accept Aadhaar is here to stay," the former UIDAI chief said.
Aadhaar is here to stay because as many as 119 crore people have it, 550 million have linked the numbers to their bank accounts and Rs 95,000 crore transferred into DBT accounts, he added.
Nilekani said he was very confident of the Supreme Court upholding Aadhaar under the fundamental right of privacy because it meets the test of the law being proportionate and reasonable.
The UIDAI said on Wednesday the Virtual ID, which would be a random 16-digit number, together with biometrics of the user, would give any authorised agency like a mobile company, limited details like name, address and photograph, which are enough for any verification.
Officials said a user can generate as many Virtual IDs as he or she wants. The older ID gets automatically cancelled once a fresh one is generated.
The Virtual ID will be a temporary and revocable 16 digit random number mapped to a person's Aadhaar number and the Aadhaar-issuing body will start accepting it from March 1, 2018.
Users can go to the UIDAI website to generate their virtual ID which will be valid for a defined period of time, or till the user decides to change it.
They can give this Virtual ID to service agencies along with the fingerprint at the time of authentication.
Close