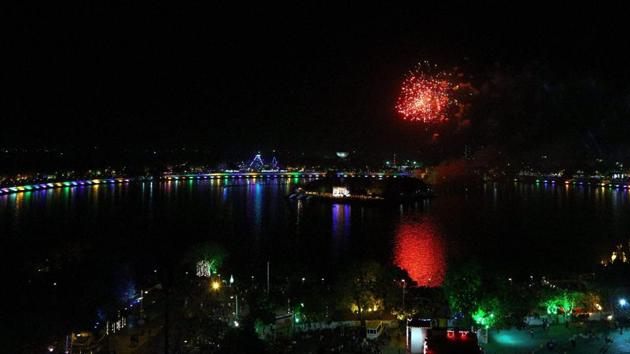 Gujarat invokes Mahatma Gandhi for sober New Year eve celebrations
The Gujarat government has used 13 quotes of the Father of the Nation on prohibition on billboards across Ahmedabad to discourage alcoholism ahead of New Year revelries.
PUBLISHED ON DEC 30, 2016 12:17 AM IST
"Daaru ne hun chori karta pan vadhare vakhodi kadhva layak ganu chu (I despise alcohol more than theft)," screams a hoarding carrying a picture of a young Mahatma Gandhi outside a shopping mall in one of Ahmedabad's plush localities.
Just 100 metres away, another hoarding with an aged Gandhi reads, "One should not hesitate to implement prohibition at any cost."
These are two of the 13 quotes of the Father of the Nation on prohibition that the Gujarat government has used in black and white billboards across the city to discourage alcoholism ahead of New Year revelries. The move comes a fortnight after passing a harsher prohibition law that entails up to 10 years in jail for just carrying liquor and other penalties and fine on offenders, including cops who fail to implement the law properly.
"Hopefully, people will follow the Mahatma's advice," said minister of state for home, Pradeepsinh Jadeja, unveiling special awareness materials with quotes of Gandhi this week.
With the crucial assembly elections next year, the BJP-led government — under pressure from OSS (OBC, SC and ST) Ekta Manch demanding complete prohibition — is leaving no stone unturned to "appease" these communities. Raids have been conducted on bootleggers and high-profile revellers, including a pre-wedding party in Vadodara.
DGP PP Pandey made it clear that the law would treat everyone equally. According to Ahmedabad police, since December 15, on an average four bootleggers are arrested daily under the provisions of Prevention of Anti-Social Act, which is invoked for repeat offenders.
To ensure a dry New Year, Ahmedabad police will set up 100 check points on December 31 at all entry points and highway stretches housing farmhouses and party venues.
Close