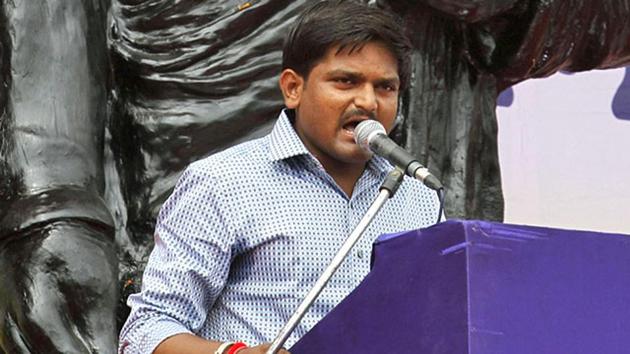 Hardik Patel on Gujarat polls: Joining Congress not in Patidar's favour now
Patidar leader Hardik Patel thinks the Congress is hardly taking any efforts to put up a strong opposition to the ruling BJP in Gujarat
UPDATED ON JUL 12, 2017 08:15 AM IST
With less than six months to go for the crucial Gujarat assembly polls, 23-year-old Hardik Patel-led Patidar Anamat Andolan Samiti (PAAS) is yet to take a call on whether it will join Congress or form a third front. The Patidars' body agitating for OBC status maintains their aim is to end the over two-decade-old BJP rule in Gujarat. While Hardik had earlier said he would transfer his votes to the Congress, given the internal disarray in the party, he is currently maintaining a degree of ambiguity.
Excerpts:
HT: Is your outfit PAAS joining hands with the Congress?
Hardik: There are no such plans as of now. The PAAS had supported the Congress in local body elections when I was in jail in 2015. But local body and assembly are different set of elections. The core committee is not in favour of joining the Congress.
HT: There are reports that while PAAS refrained from accepting it in public but many of its members are in touch with the Congress and may contest on its ticket.
Hardik: As a social outfit we may come in touch with political leaders and parties. But that does not mean that PAAS is leaning toward the Congress.
HT: Has the Congress approached you?
Hardik: Yes. Gujarat Congress in-charge Ashok Gehlot has tried to approach me through various channels but I have not met any of their leaders till date.
HT: Gujarat has been a two-party state. Then why Congress is not an option for the PAAS when it wants to ensure the BJP's defeated in the next elections?
Hardik: We can see the Congress is making hardly any efforts to put up a strong opposition to take on the BJP. Joining it, at least at this moment, may not be in our favour.
HT: Will the PAAS field its own candidates in the election?
Hardik: As of now, we don't have any such plan. We have finalised our strategy for the assembly elections but we will make it public only after a month.
Close