'Heard screams of people crying for help,' survivors recall 26/11 Mumbai attacks horror
26/11 Mumbai attacks left 166 people dead and 238 injured. A decade later, many of the injured still live with the scars -both physical and mental.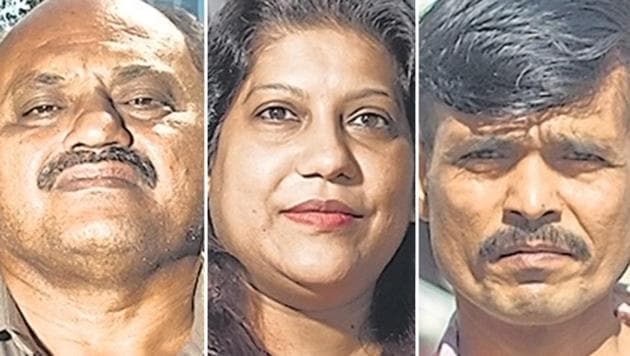 Published on Nov 23, 2018 03:28 PM IST
Hindustan Times, New Delhi |
HT Correspondent
On November 26, 2008, 10 terrorists landed in Mumbai via the sea and unleashed mayhem and bloodshed over the next two days, that left 166 people dead and 238 injured. A decade later, many of the injured still live with the scars -both physical and mental . HT spoke to three survivors. Excerpts:
MOHAN SHINDE, 58
Assistant sub-inspector (retd)
I was a head constable at the Azad Maidan police station and part of a small team led by the then additional commissioner, Sadanand Date, who, armed with small firearms, engaged Abu Ismail and Ajmal Kasab at Cama hospital for over 35 minutes. One bullet hit the lift and then got lodged in my abdomen. I fired two rounds but couldn't lift my hand after I got hit. Two colleagues, constable Vijay Khandekar and sub-inspector Prakash More, were killed. The terrorists managed to escape after injuring all of us and killing ATS chief Hemant Karkare, PI Vijay Salaskar and additional commissioner, Ashok Kamte.
ANAMIKA GUPTA, 34
Beautician
I was with my friends at Leopold Café. A gunman entered the café, put his bag down, pulled out hand grenades and threw them. He then pulled out a gun and started firing indiscriminately with his eyes closed as if he did not want to see people dying. I managed to crawl outside the café and hid below a taxi. I saw this man still firing at people and wanted to push him down but I could barely move. Over an hour later a man picked me up in his arms and took me to St. George hospital. I had three bullet injuries, one near my kidney, second in the belly and a third near my windpipe. It took me three years to get back on my feet.
BHARAT GUJAR, 43
Kitchen supervisor at Colaba's Leopold Café
While I was at the restaurant, I heard a loud sound. I was injured in a grenade attack and was hospitalised for 18 days. I remember lying on the floor and people taking me to hospital while there was chaos all around. The explosion was huge and I witnessed glass flying and diners getting injured along with the employees. As dust enveloped the café, I heard the screams of people crying for help. After the attack, blood started oozing from my stomach and I remember people running helter-skelter. I can't forget that night. It was very frightening.
Close Story