Himachal assembly elections: RSS cadres fan out in hills to bolster BJP's campaign
Updated on Oct 14, 2017 05:56 PM IST
Currently, an estimated 30,000 sangh workers are campaigning for the BJP in Himachal Pradesh.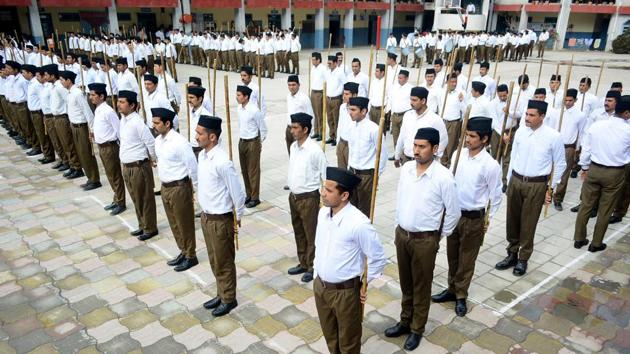 Rashtriya Swayamsewak Sangh (RSS) and its affiliate organisations have fanned out in poll-bound hill state to bolster the campaign of Bharatiya Janata Party, which is attempting a comeback after it lost power to the Congress in 2012. Elections to pick a new legislative assembly for Himachal Pradesh will be held on November 9 and results will be declared on December 18.
BJP's parent organisation, RSS, has expanded by leaps and bounds after the 2014 Lok Sabha elections in Himachal Pradesh, where power alternates between the Congress and BJP. The number of shakhas (daily gathering of activists) has almost doubled in the last two years.
Also, more youngsters have shown interest in participating in RSS activities for the Lok Sabha elections. In six years, 300 shakhas have increased in the state. Till 2010, around 300 shakhas were active in every part of the state, which has now increased to around 640 shakhas, said an RSS pracharak.
Sangh's cadres worked extensively in 2014 elections held for four seats and the BJP won all— Shimla, Mandi, Kangra and Hamirpur. The sangh cadres have become more active in the last one month even though their activities in Himachal continued throughout the year.
Interestingly, Sangh has put in more energy in areas where BJP candidates struggled to defeat Congress candidates, particularly its vanguard leaders.
This time, the BJP targets to win over 50 seats. "We cannot be complacent this time. We have leant a lot from the previous election. People in the state are fed up with the Congress," said party's organisational office bearer requesting anonymity.
Unlike Lok Sabha elections, RSS cadres this time are fanned out at the booth level, Along with its associate organisations such as Vishav Hindu Parishad, Akhil Bharatiya Vidyarthi Parishad (ABVP), Mazdoor Sangh and Kisan Sangh Sevika Samitis.
There are 7,479 booths in the state. Currently, an estimated 30,000 sangh workers are campaigning for the BJP. RSS has divided the state into 23 organisational districts so that its work could intensively be done in each part.
Earlier, RSS deployed senior pracharaks at the district level while now the average age of zila pracharaks is around 35.
Besides 23 districts, there are around six zones in the state.
Moreover, RSS has also been expanding its Saraswati Vidya Mandi to etch Hindu ideology among the youth. The first school in India was set up in 1952 in Garakhpur. Currently there are 280 schools established across the state having nearly 40,000 enrolled students.
RSS CONDUCTS SURVEY IN HIMACHAL
The RSS has also deputed professionals to assess BJP's situation on ground in the state. Several people who are not Swayamsewaks but affiliated to Hindu organisations have been touring the state to gather information on polls and prospective candidates.
"Every segment in Himachal has different election issues and people have high expectations from the government," a person, surveying assembly segments told HT, requesting anonymity.
He added, "It is not exactly a survey but an assessment regarding of the overall situation."
Personalise your news feed. Follow trending topics