Honour people who murdered cow killer, says Chhattisgarh Sanskrit Board chairman
Jul 10, 2017 04:52 PM IST
Swami Parmatamanand is also heard questioning Prime Minister Narendra Modi's statement that killing people in the name of "gau bhakti (cow worship)" is unacceptable
People who killed the gau hathyara (cow killer) in Rajasthan should be honoured, Chhattisgarh's Sanskrit Board chairman — a post deemed as equivalent to cabinet minister rank — has been heard saying in a video that has gone viral.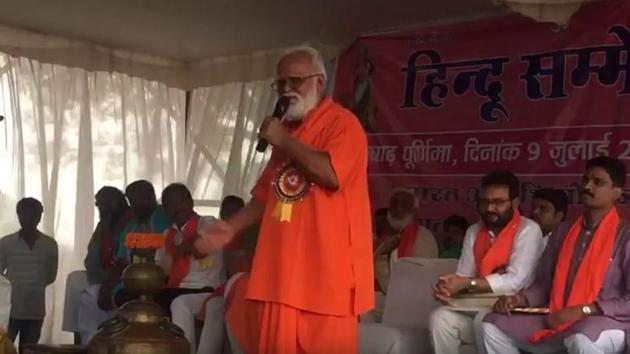 Swami Parmatamanand reportedly made the statement at an event titled Virat Hindu Sammelan in Ambikapur district on Sunday, but he did not name Pehlu Khan, a dairy farmer who was assaulted in Alwar on April 1 and died two days later.
Parmatamanand could not be immediately reached for comment on his speech during which he is heard saying, "Mere Ved mein likha hai ki gau hatyare ko sheeshe ki goli se maaro... kshama na karo. Aur Rajasthan mein jisne uss gau hatyare ko mara, uska swagat karo Chhattisgarh mein bula ke (It is written in Vedas that those who kill cows should be killed. Those who killed the cow killer in Rajasthan should be invited to Chhattisgarh and honoured)."
He is also heard questioning Prime Minister Narendra Modi's statement that killing people in the name of "gau bhakti (cow worship)" is unacceptable.
The video of Swami Parmatamanand on social media
Parmatamanand is heard saying, "How can the prime minister say that gau rakhshaks are criminals? Kuch gau rakshak gunde ho sakte hain... par humare Bajrang Dal aur sabhi gau sewak gunde nahin hain (How can the prime minister say that cow protectors are criminals? It is possible that a few are goons... but our Bajrang Dal and all those who serve cows are not)."
He is also heard saying that English schools should be banned in the country. "Mein ek din ka pradhan mantri banta toh saare English schools band kara deta (I would close all English schools if made prime minister for a day)."
Incidentally, the state government is yet to notify cabinet minister rank for Parmatamanand. "He took charge as the Sanskrit Board chairman in May and the notification hasn't come so far," said a government official who did not want to be named.