How a chess player escaped a warzone
Updated on Mar 11, 2022 11:52 PM IST
Almost a week before Russia invaded Ukraine on February 24, Indian chess player Anwesh Upadhyaya decided to wind up his decade-long life in Ukraine after receiving advisories from the Indian Embassy to leave the country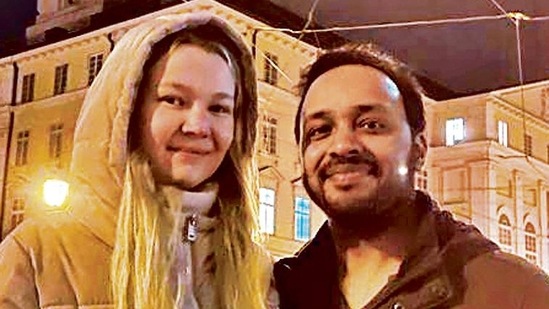 Almost a week before Russia invaded Ukraine on February 24, Indian chess player Anwesh Upadhyaya decided to wind up his decade-long life in Ukraine after receiving advisories from the Indian Embassy to leave the country. The International Master, working as a resident doctor in Kyiv's hospital No 8, had his resignation approved on February 22 and tickets booked to India for March 3. However, the situation escalated drastically, and quickly.
Now, the 30-year-old had to escape Ukraine along with his fiancé, Viktoriia Ivanova, in the midst of a war. They did so successfully, travelling by train, road, foot and air before reaching home in Bhubaneswar late on Wednesday night.
Upadhyaya gives a breakdown of his fortnight-long journey and experience in this first-person account:
February 24
I woke up at around 4am to a text from my dad (in Bhubaneswar). He said Ukraine has closed its airspace and asked me if I had received any notification from my airline. That exact moment, I heard an explosion. I just replied, "I'll call you back". There was a lot of panic. People were out of their houses. Nobody understood what was going on.
I knew the war had begun. The first thing I did was to try and get in touch with the Indian Embassy. It was difficult, and I could understand they too must have been receiving a lot of calls. I then thought about getting my fiancé back to her hometown, which is around two-and-a-half hours from Kyiv. But we couldn't find any transport, and I had sold my car, too, since I was winding up. I knew it was futile to search for any alternate transport, so we decided to stay put.
February 25-27
A curfew has been declared, so we didn't step out of the house. Fortunately, I had stocked up on supplies. The sound of attacks would be at certain fixed times — from 1-2am to 5-6am. That's when I would hear explosions, shootings, big bangs; like a constant barrage of noise with flashes of light and sound of aircrafts flying above. It was disturbing. We tried to stay awake as much as possible in those hours. Once exhausted, we would find some sleep during daytime.
The apartment where I stayed had a bunker-like basement. I went there once, on the morning of 25th, when the first alarm went off. After that, I stayed put in my flat. I would go to the corridor or, at times, inside the bathroom upon hearing the alarm. On the 25th and 26th, these alarms were quite frequent, maybe eight-nine times a day.
At one point, I thought the (Indian) embassy might evacuate us, but it may have been a problem for us because my fiancé is Ukrainian. I had multiple conversations with the locals, and realised that evacuation was a long shot, anyway. Roads were blocked, and there were constant rounds of attacks. So I decided to work on our own logistics to get out.
February 28
The curfew was lifted. That morning itself, we decided to make our way west. We had no plans about which border to cross from where. I just knew I had to get to Lviv first. Lviv wasn't a new city for me — I'd been there many times for chess tournaments. So I knew where to go and had some local friends. But the journey to get there was taxing.
We first headed to the Kyiv station in the morning, but there was a huge rush to board the trains. They were giving preference to the elderly, women and kids. I asked my fiancé if she wanted to go and that I would join her later, but she said let's wait. We came back home; my house wasn't too far from the station. We left again in the evening. Luckily, we managed to get a train which eventually got packed. The train departed at 5pm.
March 1-2
By the time we reached Lviv, it was already 6.30pm the next day (March 1). The atmosphere immediately felt different — there were no sounds of gunshots and explosions. After resting a bit in the hotel room, I went out and spoke to some locals. There were several ways to get out of the country, but I was advised against taking the main routes because they were jam-packed. I checked Google Maps to see where it was less crowded. I had two options: the Slovakia and Poland route. The latter was nearer — the border was a two-hour drive from Lviv (around 70km).
The curfew would begin at 10pm every night, and I hoped to get there before it kicked in. I wanted to remain on the move, and knew it would be much safer there. I asked my fiancé if she was up for it. She said let's leave. I had some old contacts of taxi drivers, and the second person I got in touch with agreed to drive us down there. At 8pm, we left Lviv.
We reached Uhryniv, the nearest village to the Polish border. It was relatively empty. There were around 20 people, mostly Ukrainians and a few foreign nationals. We joined them in crossing the border by foot. The Polish authorities checked my passport and other documents. We reached the border at around 11.20pm, and by 11.35pm I was already in Poland. From the border, we went to a small city called Chelm (around 25km), and from there took a train to Warsaw (around 250km)—all of it was organised by the Polish authorities. On the 2nd, I was in Warsaw.
March 3-7
I was relieved I had made it here, because now I knew we would be safe. I would've taken the next flight out to India from Warsaw, but I had to get an Indian visa for my fiancé. We had our pet cat with us too. I went to the Indian Embassy in Warsaw, but they said everybody was busy at the border with the evacuation mission. There was a weekend coming up too, so I knew the process would take some time. But to my pleasant surprise, I applied for the visa online on the 4th and received it on night of the 5th. The next two days, we got our papers in order and handed over our cat to my fiancé's cousin who lives in Warsaw.
March 8-9
We flew out of Warsaw on the 8th and had a layover in Zurich en route to New Delhi. After another short flight to Bhubaneswar, I was home, finally. It was so calming mentally. More so for my parents and family, who were more worried than me while I was in Ukraine. Although I have to start over in India, it's definitely good to be back home safe.
Personalise your news feed. Follow trending topics