'How can Oppn interfere in my faith?': Adityanath on Ayodhya Diwali celebrations
During the celebrations on Wednesday, Adityanath said no politics should be seen behind his government's efforts to develop the temple town of Ayodhya which gave the idea of 'Ram Rajya'.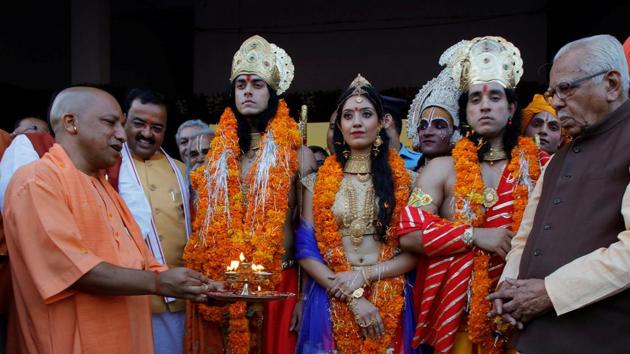 Updated on Oct 19, 2017 02:15 PM IST
Uttar Pradesh chief minister Yogi Adityanath said on Thursday he is committed to the development of every place in the state as the opposition criticised his decision to celebrate Diwali in Ayodhya, one of the most religiously polarised towns in the country, as a ploy to divert attention from real issues.
"Shri Ram Janmabhoomi mein shraddhalu desh aur duniya se aate hain, unki suraksha aur suvidha, saaf safai dekhne ke liye bhi main wahan gaya (Devotees visit Shri Ram Janmabhoomi from all over the country and the world, I was there to check the preparations in terms of their security, convenience, and cleanliness as well)," Adityanath was quoted as saying by news agency ANI.
"Meri vyaktigat aastha bhi hai, us mein vipaksh kaise hastakshep kar sakta hai (It's about my personal faith as well. How can the opposition interfere in that)?" he added.
The chief minister, accompanied by governor Ram Naik and his senior ministers, presided over a grand show ahead of Diwali and elaborated on his government's plans to develop the temple town.
Adityanath said on Wednesday that no politics should be seen behind his government's efforts to develop Ayodhya which gave the idea of Ram Rajya — where there is no poverty or discrimination.
Adityanath slammed critics claiming that there were some who opposed and questioned his actions regardless of what he did during the glittering Deepotsav organised on the bank of river Sarayu on the eve of the Hindu festivals of lights.
"There are some who are used to opposing everything we do. If I come to Ayodhya they raise questions and if I don't, they say I am afraid of coming here. Now they are saying that the Ayodhya programme is to divert the attention of people. I am here with my work, including loan waivers, wheat purchase etc, done in the past six months," he said.
Attacking opposition parties, Adityanath said his government did not discriminate on the basis of caste or religion unlike what happened earlier.
"We are making an attempt to take it from negativity to positivity. I am happy all Ayodhya residents cooperated in this endeavour. Ayodhya remained neglected, faced attacks continuously, but it will not remain so. We have launched Rs 133 crore schemes here," he said.
Close Story
Personalise your news feed. Follow trending topics