How farmers in 3 Marathwada villages created an oasis in the suicide-prone region
Indo Asian News Service, Jalna |
Indo Asian News Service
Jun 23, 2017 02:48 PM IST
Dubbed the Kadwanchi model, the watershed project has given farmers year-round access to water.
When massive crop failure and farmers' suicide afflicted the Marathwada region in Maharashtra during the 2012-16 drought, farmers in three villages of Jalna district were not much concerned about the lack of rainfall.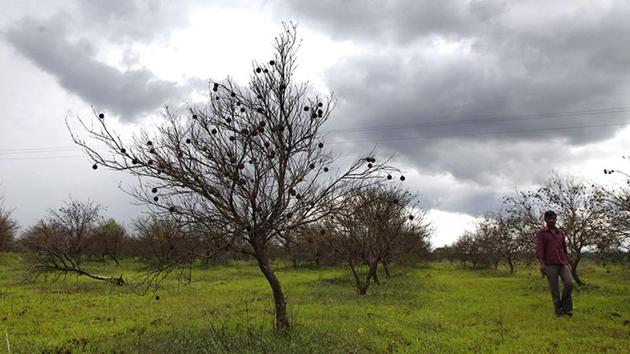 A watershed project had obviated their need to look at the heavens every season. Enough water was available in the 1,888 hectares area comprising the three villages — Kadwanchi, Nandapur and Waghrul — since late 1990s.
The project has become famous as the Kadwanchi model since it helps grow grapes, a water-intensive crop.
"Hardly anybody knew of grapes 20 years ago. Now, 95% of farmers in the area cultivate grapes. There used be drought in our villages. After the project was implemented, we never faced water scarcity. Farmers here are lakhpatis now," Chandrakant Kshirsagar, farmer and sarpanch of Kadwanchi village, told IANS during a visit to the village.
The 45-year-old farmer says he has been making handsome profit every year by cultivating grapes on his 15-acre semi-arid land, irrespective of rainfall, which was up to 50% less than the normal during the drought years. The farm produce has sustained 355 families in the three villages.
The project involved building continuous contour and absorption trenches in the hills and bunding (or earthen embankments) on farm boundaries to recharge ground water and stop soil erosion. Also, check dams were constructed at several spots to store large volumes of water. Later, several small ponds in farms were constructed through a separate government scheme, which boosted the water management programme.
"Earlier, we could not make effective use of monsoon water since most of it would run off. In addition, it would cause soil erosion, thus reducing nutrition content from soil. If soil is conserved, water will be conserved automatically. Under the watershed project, we took several measures to arrest soil erosion and water to recharge underground water-table," said social activist Vijay Borade, who conceptualised the project.
The project was implemented in the three villages by Krishi Vigyan Kendra (KVK) under the Indo-German Watershed Project from 1996 to 2002.
Borade, a recipient of Maharashtra's Krishi Bhushan award, said their measures paid off. "None of the farmers in this area has complained of water scarcity, even during summers. They are cultivating water-intensive crops and getting better remuneration," he added.
According to Central Research Institute for Dryland Agriculture (CRIDA) — a National Research Institute under the Indian Council of Agricultural Research — cultivation of grape increased exponentially after the project was completed.
Pandit Wasre, Agriculture Engineer at the Jalna KVK, who was also part of the watershed project, said the region was vulnerable to drought but the farmers now have year-round access to water, allowing them to cultivate their land twice in a year.
"It has been just 97mm of rainfall in eight days so far and all check dams are full. Also, water can be seen in farms due to bunding. The volume of partial failure of crops has come down significantly due to the project," Wasre said.
He said adoption of the cost-effective Kadwanchi model can make the farmers in the Marathwada region self-sufficient in water.
Bhagwan Kshirsagar, a grape grower from the area, says he is planing to cultivate export quality grape variety, which would help him fetch more money. "Initial investment is a little more. But we are quite confident of returns due to water availability," Kshirsagar said.
While the Marathwada region has been in limelight for farmers' suicide in the past few years — with 900 farmers killing themselves in 2016 — Kshirsagar said farmers from the watershed area never faced financial distress.
According to the KVK data, agriculture income from this watershed area was Rs 27 crore in 2012-13 when rainfall was just 29 per cent of the annual average. In 2015-16, the income rose to Rs 42 crore when rainfall was 60 per cent. Before the watershed project, the average yearly income in the villages was Rs 77 lakh.
Local farmers said the annual yield of grapes ranges between 12 and 15 tonnes per acre every year, while some managed to get up to 20 tonnes. They also grow cotton, pigeon pea, green gram, sorghum and corn.
Now, villagers in the area are planning to cultivate guava, as the government has shown interest in fruit juice production, Borade said.
He said the Kadwanchi model is being adopted in nearby areas. "The model cannot be exactly same owing to different land use and climatic conditions, but people can take inspiration from this model and develop their own," Borade added.