HP rejects Rajasthan govt's move to allot land to oustees of Pong Dam along Indo- Pak border
Jul 02, 2018 05:31 PM IST
HP government had asked Rajasthan government that if it was unable to provide the land to oustees, it should consider paying one time financial compensation to oustees waiting rehabilitation.
Himachal Pradesh government has rejected Rajasthan government's move to allot chunks of land to oustees of Pong Dam – known as Maharana Partap Sagar dam along India – Pakistan border.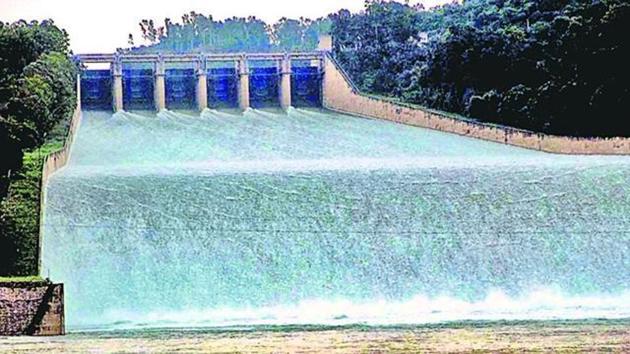 On the other hand, Rajasthan government has turned down Himachal government's proposal of seeking financial compensation for oustees awaiting rehabilitation for more than half a century.
Maharana Partap Sagar dam feeds Indira Gandhi Nahar Pariyojana, de-desertifying desert wasteland into agriculturally productive area.
Rajasthan government had allotted murrabas (125 kanal of land) each to 613 oustees along the international border in Laungewala, Gamnelwala and Hasunwala of Jaiselmer district. However, Himachal has disputed Rajasthan government's decision to allot land along the border claiming it unfit for cultivation.
Further it urged government to reconsider land allotted to oustees along the border areas. Besides, it asked the Rajasthan government to allot alternate land to oustees who were allotted land in Mohangarh in Rajasthan.
Himachal government had asked Rajasthan government that if it was unable to provide the land to oustees, it should consider paying one time financial compensation oustees waiting rehabilitation.
"Undulating terrains in the areas of Indo- Pak border render murrabbas allotted to oustees largely uncultivable. Existing irrigation infrastructure is largely redundant for non –availability of water.
"Locals informed that the region goes without water for months. The land is unfit for oustees," says revenue official, deputy secretary PK Taak.
High-level committees constituted by both the governments will meet on July 3 in Delhi to find ways for resolving long standing dispute. Both the governments have held 22 meetings of the high level committees since it was constituted in 1990.
Pong dam oustees on the other hand had escalated pressure on the government to settle the issue. Senior vice-president of Pong Bandh Sangharsh Smiti Satayinder Gautam said the issue is not only of land allotment but many problems have risen with the passing years.
"Government should not only compensate people awaiting land allotment but also those whose plots were encroached or sold by the locals," he said.
Manohar Singh an oustee said monetary compensation is the best solution as many people are unwilling to move to Rajasthan due to harsh climate.
Hoshyar Singh, the independent legislator from Dehra assembly segment of Kangra district who had launched a stir on June 25 by shaving his head has meanwhile suspended the movement launched for the rights of Pong Dam oustees.
He said, "The decision came after the chief minister Jai Ram Thakur assured of taking up the matter of rehabilitation of the displaced people with the Rajasthan government."
About the issue
The construction of water reservoir in a village near Pong began in 1961. The Pong dam project was conceived as a part of larger project then known as the Rajasthan Canal project (RCP) but later it was rechristened as Indira Gandhi Nahar Pariyojana.
Total length of the canal is 649 kilometers which takes water from the reservoirs to the deserts lands of Rajasthan. The process of the land acquisition started in early 1960's. Around 75,268 acres of land was submerged in the Pong dam in which 226 villages were submerged completely and 113 villages were partially affected.
Reservoirs displaced 20,722 families – a population of 1,50,000 was affected. Rich fertile Haldoon valley known as the heart of Kangra district that produced crops too submerged in the Pong dam. The dam is a direct source of water for Indira Gandhi Canal Project (IGNP) in Rajasthan. Out of the total 20,722 displaced families, 16,352 were found eligible for the allotment of land in Rajasthan.
The Rajasthan government had earmarked 2.20 lakh acres of land in Anupgarh tehsil and 30,000 in Jetsar farm in Ganganagar district. It had allotted 87,968 acres of land to 9,196 oustees up to 1977, but the most of this land was unfit for agrarian activities. Himachal government claims that more than 8,000 oustees are awaiting for land.